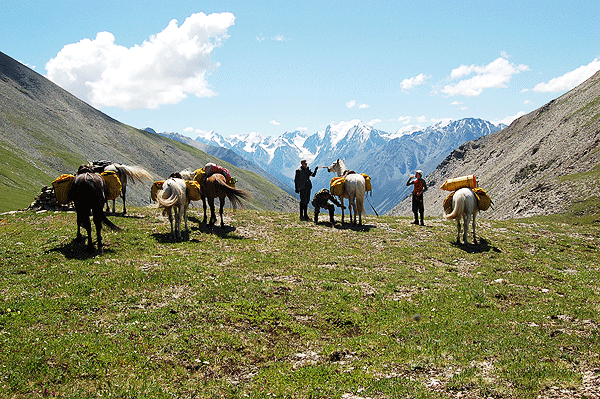 2018-02-06
?
?
Length: 7 days
Type: private package tour
Area: Western Mongolia
Potential dates: from June to September each year.
Difficulty: moderate (need some experience necessary. The trip suitable for 20-50)
Distance: driving: 350 km, flight: 6 hours
?
Day1. Fly to Olgii
Early transfer to UB airport after a breakfast. Take a flight to Ulgii (3hrs). Meet your local Kazakh guide arriving at Ulgii airport and transfer to hotel in Olgii. Overnight at hotel. (BLD)
Day2. Drive to Chigertei Lake
Drive to Chigertei Lake, which is a summer pasture area for Kazakh nomadic herders. We will meet with our local hosts for the next few days, which are horse and camel wranglers from the area. If the families have arrived, we will pitch camp next to their yurts on the shore line of the lake. overnight at tent.
Day3. Trek (2550-3005m, 5-7hrs)
Load all luggage and equipment on camels. Trek a short day south through inhabited lush valleys. Trail finders are local Kazakh people who are also the owners of our support animals, like camels or horses. Local people keep also yaks, goats and sheep. Overnight at tent.
Day4. Trek (3150m-2450m, 6-7hrs)
Today we will continue south through valleys, however now likely devoid of any people as we ascend to higher altitudes towards and across the Jolt Pass (3150m) which is the highest point of the trek, crossing the part called Tsengel Hairhan Nuruu. If the skies are clear (which is likely in June) there will be magnificent views of the snow capped Altai Mountains. Overnight at tent.
Day5. Trek (2450m-1850m, 6-7hrs)
Trek through uninhabited lush valleys in the Altai Mountains. Overnight at tent
Day6. Trek (1850m-2950m, 6-7hrs)
Today we turn north again gaining altitude again opening up for the mountain landscapes surrounding us and we will again come down towards the marsh lands near the southern tip of Dayan Lake as we enter Altai Tavanbogd National Park here. We can now see a new group of nomads camps in the distance, who have their summer pastures in the basin of Dayan Lake. Overnight at tent.
Day7. Trek (2950m-2425m, 5-7hrs)
Trek day northwest direction along the wetlands until we reach the Dayan Lake. Local people are in quite large number as the area has rich pastures usually due to the run off of water from the mountains and the lake side riparian zone. There is difficult to see wildlife here such as Brown Bears and Red Deer (Cervus elaphus). Overnight at tent.
Day8. Dayan Lake Trek (2425m-2550m, 5-7hrs)
Full day trek along the Dayan Lake with crystal clear transparent waters. The open vistas allows for great views of the snowcapped mountains – among them Holagash – in the distance. Hopefully pitching camp at the north end of the lake. The trek is great for fishing for Lenok Trout  and Grayling of which Mongolia has four species, and in this area, the largest of all Graylings of the circumpolar north. Great sunset and sunrises here. The lake is rich in bird life of ducks, Whooper Swans, geese, cormorants and gulls. Overnight at tent
Day9. To Drive towards Altai Tavan Bogd Peaks
After early breakfast, we start our driving towards Altai Tavan Bogd Peaks. Drive through the dramatic steppe valley along the river that drains from the Altai Tavanbogd massif, creating a series of beautiful lakes. Reach road end near Potanin Glacier. Overnight at tent.
Days10-11. Tavanbogd massif (2550m-3300m, 4025m)
First day, trek for 20 km toward the base camp of the snow-capped Tavanbogd massif. Pitch camp next to the Potanin glacier – the biggest of the twenty glaciers in Mongolian Altai. Remain there for two nights. Tavanbogd means "The Holy Five", referring to the five highest peaks, of which Huiten Uul is the highest in Mongolia, 4374 meters above sea level. Quite a considerable height at this altitude. It is a stunning setting with the awe-inspiring massif of high snow-capped peaks. Second day, rest day and soft hiking around Third day, for a full day (7-8hrs) we will make day hikes to the Malchin Uul. These are non-technical climbs. Overnights in same campside.
Day12. Drive to Olgii
Walk down and reach the road end, where our cars are waiting for us. After driving 185 km, we reach Olgii and transfer to hotel and have a lunch. The bazaar in Olgii is interesting, as well as the mosque, which has been renovated in recent times. You have the whole day to visit Olgii. There are some very interesting back street handicraft shops and a well-stocked local museum. Overnight at local ger camp.
Day13. Visit Kazakh Eagle hunter's family
After breakfast, drive to Sagsai and come to the Kazakh Eagle hunter's family and feel the grade hospitality. The Mongolian Kazakhs use for hunting female eagles as far they are bigger mail ones and more aggressive. These eagles are trained to hunt fox, wolf, rabbit and wild cat. Staying with this family until next day afternoon, you will learn and enjoy this unique customs of the Mongolian Kazakhs. Overnight at yurt with Eagle hunter's family.
Day14. Fly to Ulaanbaatar.
After breakfast, transfer to Olgiy airport to catch a flight for Ulaanbaatar. Meet by our guide and transfer to hotel.
Our Booking is easy & complete in below 4 steps.
Step1: 
 Please carefully read our Contract Of Private Package Tour. Cancellation & other condition will be follow this contract.
Step2: 
 Send us your Booking Form (Only one of the group member's Booking Form is fine. No need to send us all member's booking forms)
Step3: 
 You will be received an Voucher & Invoice from us via email.
Step4: 
 Select payment method and pay the Payment.
Above prices are changeable by changing components (kind of services) of the itinerary.
This is a private tour and you or your travel buddies will be in the tour.
Domestic flight companies accept only 10kg-15kg lugguge incuding your carry on bags too for free transfer.
It is your responsibility to ensure you are in correct pick up location at correct time as stated on your booking form.
No smoking in travel vehicles or aircraft.
How long have you been in business?
We have been providing high-quality sightseeing travel  at low prices for over 10 years. Read our customer Testimonials. You can also see ratings and reviews of our tours from real travelers on the tour/activity details page. more Customers' FAQs
Please let us know should you have further inquiries! We are looking forward to assist you with organizing your stay in Mongolia and answering any questions you might have about this tour. We want your holiday experience in Mongolia to be as amazing as it is possible.