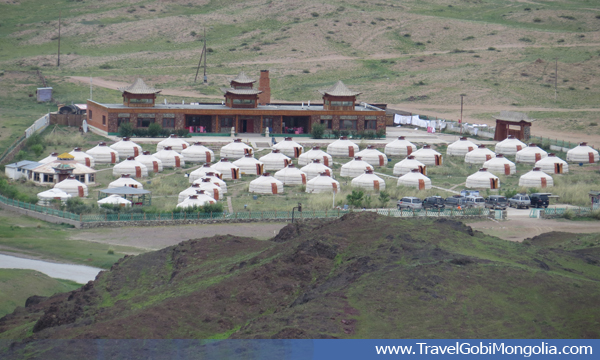 Ongiin Nuuts tourist camp is a luxurious and located near to Ongiin khiid (also referred as Ongi Monastery ruins) that is a active small monastery with a temple which was built on the ruins of a monastery complex that was formerly one of the largest monasteries in Mongolia and founded in 1760 and consisted of two separate tempes complexes, Barlim khiid and Khutagt khiid, on the North and South of the Ongi Gol river about 18 km from Saikhan-Ovoo sub-provincial center, Dungobi province.
Book your accommodation with most competitive prices for tourist ger camps across Mongolia
Easy compare rates and condition from our created and fully narrated template pages of each tourist ger camps
Online easy payment options and book online in a few steps
Better term and condition from contracted respected travel agency
Round the clock customer support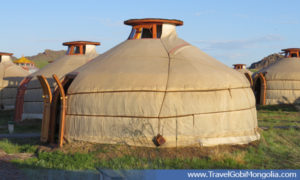 The tourist camp is one of the several tourist camps in this place. The tourist camp is big and its facilities, specially toilet and shower, work very properly. This TC is connected to a well which is 107 m deep to ground. Like other normal tourist camps, the TC has main building of restaurants and kitchen and public toilet and shower rooms are attached in main building. Ger accommodation is different than normal tourist camps and well designed. Comfort is superb. Electricity is connected to central electricity system and 24 hours. The camp area receives mobile signals of some operators and it allows you using calling and internet connection through your mobile phone. The tourist camp is considered most luxurious camp in Mongolia.
Active period: seasonal, from June to Sept.
Check in: any time after booking is confirmed
Check out: usually after breakfast, but after lunch is also possible
Location & address: Ongiin Nuuts tourist camp, Saikhan-Ovoo sub-province, Dundgobi province
| | |
| --- | --- |
| From Ongiin Nuuts TGC | – Ongi Monastery Ruin: 1 km |
Service type
Prices for tourists (usd)
Prices for staffs (mnt)
 Single occupancy
Double occupancy
Breakfast
7
5,000
Lunch
12
9,000
Dinner
10
8,000
Bed
16
21
8,000
Total rate per day per person
45

50

30,000

Rate includes: – V.A.T /10%/
Group rates and long staying rates available upon request
Child Policy: Children under 6 years stay free of charge, 6–12 years stay in 50% discount.
Cancellation policy: No show – 50%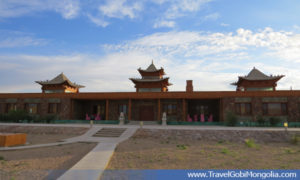 Ger accommodation (rooms): This tourist ger camp has 45 ger and is capable to host 100-120 guests at same time and the gers are made with traditionally and decorated with national patterns and comfort is acceptable. They maybe provide basic amenities like slipper, bath towel and hot water. Gers have 2-4 beds and basically offered double/twin occupation. During peak season (05-20 July) you might be asked stay more than double occupancy with your group members but it is very uncommon.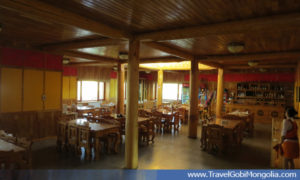 Dining: Restaurant in the main building is able to receive over 120 people at once and well equipped. High-specialized cooks & waiters serve you fast with European, Asian & Mongolian traditional dishes & get food order. Vegetarian food is available but need to inform.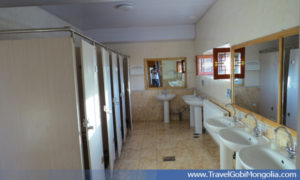 Toilet, shower and other facilities: Like other normal tourist camps, the TC has a separate concrete building of public toilet and hot shower rooms. Also it has Finnish sauna and its relaxing massage is possible in here. You can wash your car. It is free of charge. Souvenir shop is located inside of main building. Main dining hall has satellite TV and it is possible you can watch world class TV channels. Internet connection is possible and you will pay by using time to reception. The public shower has 15 rooms in man side and woman side is 14 that is quite enough number.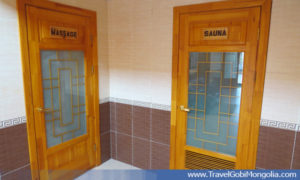 Tour & Activities: From this TC you can do a day tour to Ongiin khiid and its ruins and explore a rock drawings near to the site. Also, if you like you can swim in Ongi river and do great hiking. Also the tourist camp's staffs performance traditional costumes show in every evening after dinner and it is free of charge.