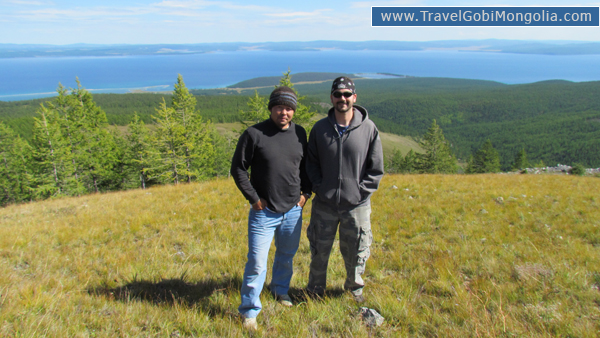 You will have enough time for discover and enjoy each places without time rushing.
– Discover Khuvsgul Lake, one of nature's miracles – Blue Pearl Of Asia
– Meet the lost tribes – tsaatan people
– Check out the 3,000 year-old Uushig Deer Stones those date back to the Huns period
Length: 4 days
Type: private package tour
Area: Khuvsgul Lake National Park
Potential dates and weather condition: from June to September, each year
Difficulty: easy – moderate
Distance: flight: 4 hours, driving: 300 km
By days:
Day1. Fly to Murun. Uushig Deer Stones
Day2. Khuvsgul Lake National Park
Day3. Khuvsgul Lake National Park
Day4. Fly back to Ulaanbaatar
We offer 2 different type of tour arrangements for our customers.
Standard Arrangement What is standard arrangement?
(Staying through the tourist ger camps) What is tourist ger camp?
840 USD for 1pax
570 USD p.p for 2pax
490 USD p.p for 3pax
450 USD p.p for 4pax

Single supplement:

 60 usd


Included:

 3 nights in tourist ger camp, food service, land transportation, English speaking guide service, mineral water, all entrance fees and Government charges, all activities costs, domestic flight drop off & pick up


Not included:

 gratuities for staffs, personal expenses, travel insurance
Budget Arrangement What is budget arrangement?
(Staying in the local ger guesthouses) What is local ger guesthouse?
680 USD for 1pax
420 USD p.p for 2pax
340 USD p.p for 3pax
300 USD p.p for 4pax

Included:

 3 nights in local ger guesthouse, land transportation, English speaking guide service, all entrance fees and Government charges, all activities costs, domestic flight drop off & pick up


Not included:

 food service, sleeping bag, gratuities for staffs, personal expenses, travel insurance
Child policy: 0 – 3 years old baby free of charge, 4 – 12 years old child: 30% discount (counted as 1pax)
Group policy: Up from 6pax please see our Group Service. Get better rate.
Discount policy: We always try to lower the our service prices by looking better solution for our customers. Here is several Discount Policy you can save until 10% that we can do on our best for our customers.
 ?
Why domestic flight not included? The rate of the flight tickets is not constant, very changeable & will depends by many reasons such us when to buy etc. But we are able to book the tickets for you in their contract price without any charge or you directly to book by youself. There is 2 companies running in the business Aero Mongolia & Hunnu Air. You can google & book the tickets online.

Why food service not included in the Budget Arrangement? You can buy meals from local ger guesthouses by paying only 2 or 3 usd per meal. There is plenty of food shops on the way when you are touring. You can carry your own food from UB. It is nice you eat our own breakfast and then buy meals for lunch and dinner. Meals will be basic and usually cooked Mongolian traditional or Russian styled foods. Or you can get basic free kitchen belonings from us and cook yourself. more other Customers' FAQs
Day1. Uushig Deer Stones – ancient burial site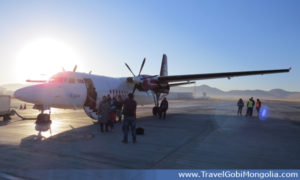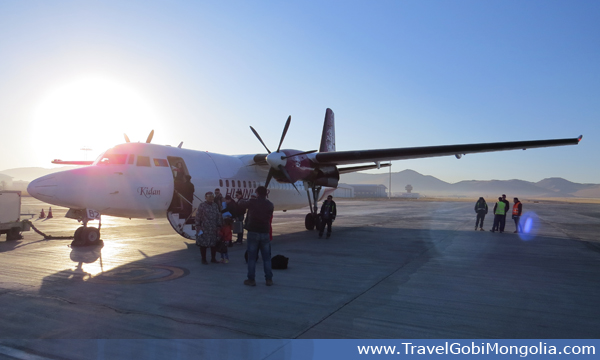 We will pick you up from your accommodation and transfer to the airport. After you landed in Murun town, our local guide & driver pick you up and drive to Uushig Deer Stones. A complex of 30 deer stones of Uushig Valley and its burial mounts belong to the ancient Huns period and over 3000 years old. The Bronze Age funeral practice, sacrificial ritual and ideology and animal style art, which were spread among ancient nomads, are all together represented through deer stones made by long block of granite.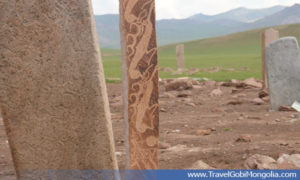 Highly artistic illustrations of deers and other images are symbol of Shamanism. Especially, statues with images of human face draw attentions of many scientists and considered one of the rarest statues. We will walk around the site. Then we will drive to Khuvsgul Lake National Park (130 km). About midway along border between Mongolia and Russian Siberia, in a gigantic stone bowl nearly 110km long and almost 40km wide, lies 3% of the all the fresh water on earth – Lake Khusgul. The lake region is home to an enormous variety of plants and animals.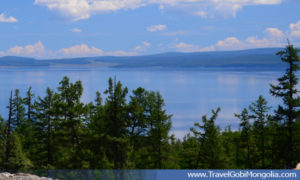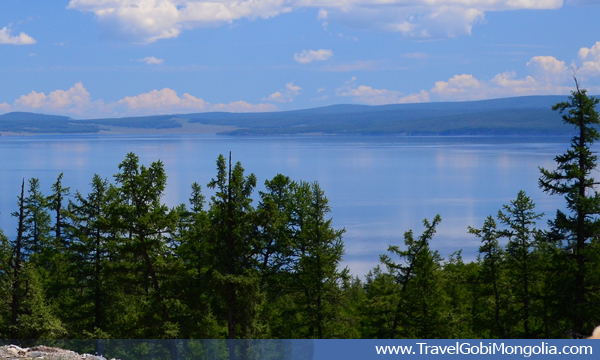 Since 1990s Lake Khuvsgul and the entire surrounding area have been designated as a national park, and Khuvsgul is today a naturalist's paradise and an idyllic holiday destination. The water in the lake is so clean and clear that one can easily catch sight of ground. After dinner time, we will do small leisure hike along the shore of the lake. Overnight there.
Day2. Khuvsgul Lake National Park – half day trekking and visit to reindeer people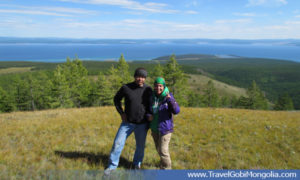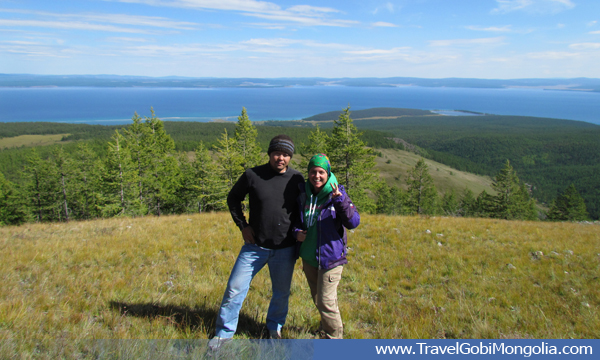 After breakfast time, you will have half day hiking. Hiking and climbing up to the top of the back mountain of the lake is unforgettable. You will hike over a beautiful and fully covered forest of Siberian larch. Your guide will be accompanying you and packed lunch will be available. After lunch time, you will visit a reindeer herders' family.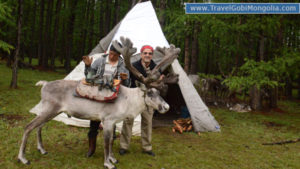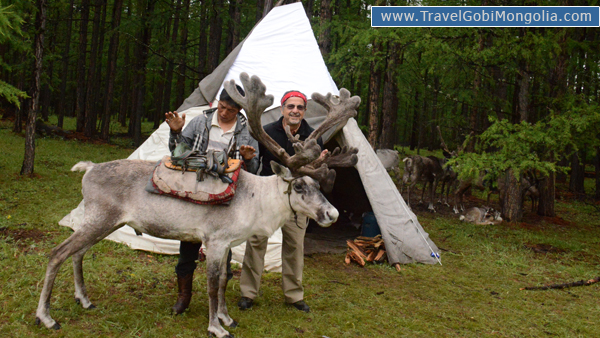 They are Tuvan people who moved to the Mongolia from Tuvan Republic around 1920s to the northern most part of Mongolia. Dukha (another name) are one of the last groups of nomadic reindeer herders (about 40 families left). Some reindeer people moved to the lake area for selling hand made souviner to tourists and brought their reindeers.
Day3. Khuvsgul Lake National Park – full day horse trek.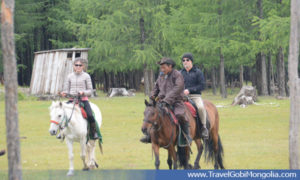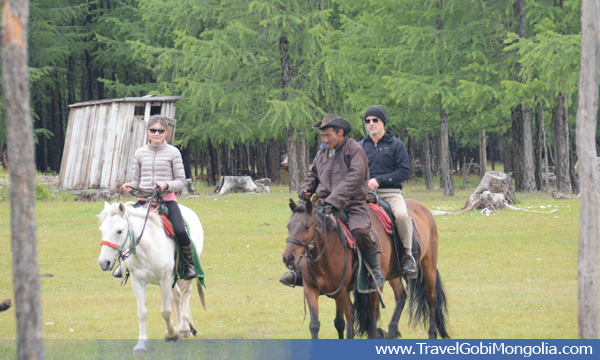 After lunch time, we will enjoy an exhilarating horseback pack trip through untamed wilderness and panoramic scenery. The horseback riding enthusiast will experience an unforgettable excursion through timbered ridges and mountain meadows. We offer horse pack trips suited for all ages and abilities with rides varying in length . Horse pack trips allow you to reach deep into the southern Siberian wilderness.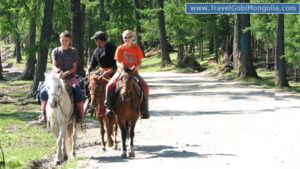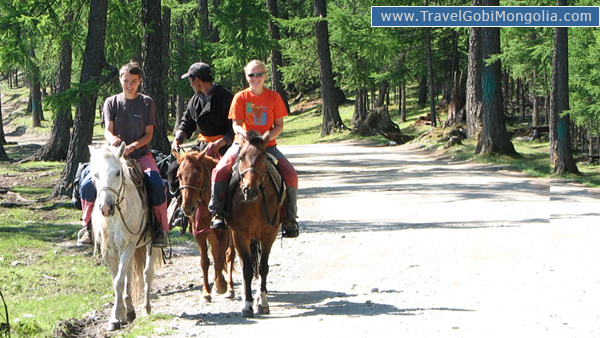 Horseback riding and fun are the main objectives on horse pack trips combined with good nomad's Mongolian hospitality. Saddle up the whole family for an unforgettable horseback riding adventure.
Day4. Back to Ulaanbaatar.
After breakfast time, we will drive to Murun town for flying back to Ulaanbaatar. After you landed in Murun, we will transfer you to your accommodation and end the trip.
Our Booking is easy & complete in below 4 steps.
Step1: 

 Please carefully read our Contract Of Private Package Tour. Cancellation & other condition will be follow this contract.
Step2: 

 Send us your Booking Form (Only one of the group member's Booking Form is fine. No need to send us all member's booking forms)
Step3: 

 You will be received an Voucher & Invoice from us via email.
Step4: 

 Select payment method and pay the Payment.
Above prices are changeable by changing components (kind of services) of the itinerary.
This is a private tour and you or your travel buddies will be in the tour.
Domestic flight companies accept only 10kg-15kg lugguge incuding your carry on bags too for free transfer.
It is your responsibility to ensure you are in correct pick up location at correct time as stated on your booking form.
No smoking in travel vehicles or aircraft.
How long have you been in business?
We have been providing high-quality sightseeing travel  at low prices for over 10 years. Read our customer Testimonials. You can also see ratings and reviews of our tours from real travelers on the tour/activity details page. more Customers' FAQs
Please let us know should you have further inquiries! We are looking forward to assist you with organizing your stay in Mongolia and answering any questions you might have about this tour. We want your holiday experience in Mongolia to be as amazing as it is possible.