This special tour gives us the opportunity to discover Mongolia in one of the most fascinating ways, …. by horse. You can reach places and see things that you don't normally do, as well as discovering the beautiful National Park Khangai in which we stay and sightseeing in the enchanted valleys that we go through. Enjoy horseback riding with us as much as we enjoy sharing our country with you.
Length: 6 days
Area: Central Mongolia
Potential dates and weather condition: from June to September
Distance: 900 km
We offer 2 different type of tour arrangements for our customers.
Standard Arrangement What is Standard Arrangement of TGM?
(Staying through the tourist ger camps) What is tourist ger camp of Mongolia?
950 USD for 1pax
780 USD p.p for 2pax
700 USD p.p for 3pax
700 USD p.p for 4pax
650 USD p.p for 5pax
600 USD p.p for 6pax

Single supplement:

 60 usd


Included:

 4 nights in tourist ger camp, food service, land transportation, English speaking guide service, mineral water, all entrance fees and Government charges, all activities costs


Not included:

 gratuities for staffs, personal expenses, travel insurance
Budget Arrangement What is Budget Arrangement of TGM?
(Staying in the local ger guesthouses) What is local ger guesthouse of Mongolia?
560 USD for 1pax
470 USD p.p for 2pax
430 USD p.p for 3pax
400 USD p.p for 4pax
380 USD p.p for 5pax
300 USD p.p for 6pax

Included:

 3 nights in local ger guesthouse, land transportation, English speaking guide service, mineral water, all entrance fees and Government charges, all activities costs


Not included:

 food service, gratuities for staffs, personal expenses, travel insurance
Child policy: 0 – 3 years old baby free of charge
4 – 12 years old child 30% discount (counted as 1pax)
Group policy: Up from 6pax please see our Group Service. Get better rate.
Discount policy: We always try to lower the our service prices by looking better solution for our customers. Here is several Discount Policy you can save until 10% that we can do on our best for our customers.
| | |
| --- | --- |
|  ?  | Why food service not included in the Budget Arrangement? You can buy meals from local ger guesthouses by paying only 2 or 3 usd per meal. There is plenty of food shops on the way when you are touring. You can carry your own food from UB. It is nice you eat our own breakfast and then buy meals for lunch and dinner. Meals will be basic and usually cooked Mongolian traditional or Russian styled foods. Or you can get basic free kitchen belonings from us and cook yourself. more other Customers' FAQs |
Day1. Arrive in Ulaanbaatar. Ulaanbaatar – Karakorum. 350 km.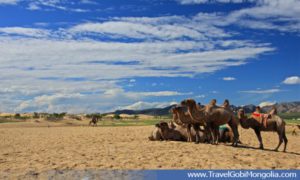 We will pick you up from your hotel. After breakfast, we will head out to the west out of UB. En route, will pass rolling hills and vast plains in central Mongolia. On arrival, stay at tourist camp 'Khognokhaan'. After lunch, we will travel to historical mountain Khognokhaan where an Oirat's western Mongolian senseless military ruler gelded some lamas (Buddhist monks) during Mongolian tribes' internal war in the 17th century. This rocky mountain is home to hundreds of birds, deer, and gazelle. You will be free to do whatever you wish in the afternoon, but you could go hiking in the mountains or ride to the "Piece of Sand" sand-dunes on the nearby steppe. There are also two ruined monasteries around the mountain to discover. Surroundings' nature scenery is wide-open steppe with rolling hills in the background.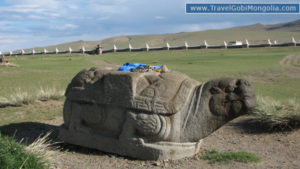 Drive to Karakorum, the ancient capital of Mongolia where today there is a small local township. On arrival you will notice the first and most obvious landmark which is the massive wall of monastery Erdenezuu. The monastery was built in 1586 by a well-known Mongolian king called Abtai Sain Khaan, and is surrounded by a vast 400m wall. Not a single nail was used in the construction of the ornate temples, only a few of which remain standing after the communist purges. In previous times the grounds held over 60 temples with 10,000 monks using them for their daily worship. After lunch, continue the drive to valley of Orkhon River where our horses are waiting for our first ride in the valley.
Day2. Horseback riding. 25-30 km (riding).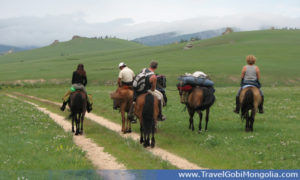 We depart on our horses in the morning and head towards the Mountain Range Tukhvun which lies in the River Orkhon valley. We ride along the old car tracks and until we reach some of the private winter shelter of nomadic families; one of which we will visit. We find a delightful place to rest and relax while we enjoy the gorgeous views of the Khangai mountains.
Day3. Horseback riding. 25-30 km (riding).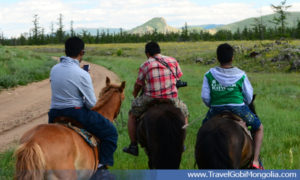 Today will be a gentle riding day. In the afternoon you will have time to stay and relax in a real nomadic family, hike, or do one of the many fascinating activities possible in this area. Then we ride through the Mongolian forest to the top of the mountain where a stunning view overlooking the open country valley awaits you.
Day4. Horseback riding. 25-30 km (riding).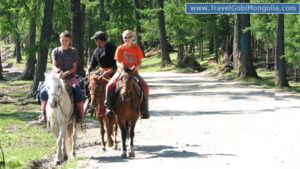 Today we go early in the morning to Tuvkhun Monastery. This is the most secret and famous monastery in Central Asia, noted for its artifacts and handicrafts and the Buddhism culture. We spend about couple hour here, to enable you to climb on the Tuvkhun Mountain or just walk around trying to get some interesting photographs of the nature. After we have enjoyed the monastery and its surrounding beautiful nature with the locals, we will depart to get on our horses and start another.
Day5. Horseback riding. 25-30 km (riding).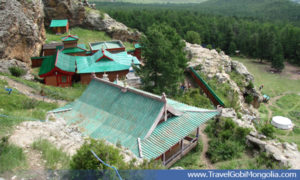 Today we are going to pass through attractive group of nomadic families where we can see the Mongolian people wearing their traditional costumes. We will enjoy unforgettable sights of the Central Mongolian mountains and extinct volcanoes reminds, together with discovering the black coniferous forests.
Day6. Drive to Ulaanbaatar and International Departure. 350 km.
After breakfast, we will drive to Ulaanbaatar city. After arrive there we will be transferred in the accommodation.
Our Booking is easy & complete in below 4 steps.
Step1: 
 Please carefully read our Contract Of Private Package Tour. Cancellation & other condition will be follow this contract.
Step2: 
 Send us your Booking Form (Only one of the group member's Booking Form is fine. No need to send us all member's booking forms)
Step3: 
 You will be received an Voucher & Invoice from us via email.
Step4: 
 Select payment method and pay the Payment.
Above prices are changeable by changing components (kind of services) of the itinerary.
This is a private tour and you or your travel buddies will be in the tour.
Domestic flight companies accept only 10kg-15kg lugguge incuding your carry on bags too for free transfer.
It is your responsibility to ensure you are in correct pick up location at correct time as stated on your booking form.
No smoking in travel vehicles or aircraft.
How long have you been in business?
We have been providing high-quality sightseeing travel  at low prices for over 10 years. Read our customer Testimonials. You can also see ratings and reviews of our tours from real travelers on the tour/activity details page. more Customers' FAQs
Please let us know should you have further inquiries! We are looking forward to assist you with organizing your stay in Mongolia and answering any questions you might have about this tour. We want your holiday experience in Mongolia to be as amazing as it is possible.
Tuvkhun monastery. High in the mountains marking the north side of the Orkhon Valley sits this recently rebuilt monastery. (GPS: N47°00.711', E102°16.005') Zanabazar founded the site in 1653 and lived worked and meditated here for 30 years. Several pilgrimage sites have grown up around the temple and hermit's caves, including one that is said to be Zanabazar's boot imprint. Tuvkhun Monastery, in 1653, believers who gathered in Erdene Zuu Monastery decided to build a special Monastery for Zanabazar. Following this decision the Monastery Tuvkhun was built at Shireet Ulaan, the most beautiful scenery in Khangai Mountains. We will continue riding along the river until reach our overnight camping spot on the river's shores.
Tuvkhen monastery is located in the densely forested and picturesque mountain Shivee at an elevation of 2000m above sea level. Tuvkhen monastery consists of a stupa, prayer wheels and 14 temples and orginally had about 20 lamas.A meditation site associated with Erdene Zuu, during the late Mongol period the Tuvkhun monastery has two caves to the weat and north-west directions.
The first temple of Tuvkhen monastery was built in 1654. Researchers have determined that this first temple was the meditational studio of Under Gegeen Zanabazar.Tuvkhen monastery was restored in 1760 and 1786. One undamaged temple (temple-studio) and foundations of buildings, wooden floors, ruins of some temples were protected by the province in 1971 and by the State in 1994. A restoration design for the undamaed temple-studio was made.