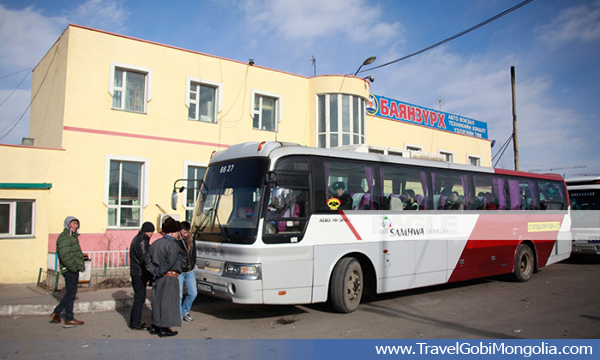 For your next bus travel, why stand in long queues at the bus ticket counters. Book bus tickets online with TravelGobiMongolia.com and get on that memorable journey!
Book bus tickets with most competitive prices for over 60+ bus routes across Mongolia

Choose from wide variety of transportation Bus, Micro bus, minivan and car with AC/ Non-AC, Luxury, Sleeper Buses etc.

Compare fares, check for availability and book online in a few steps

Online easy payment options for Bus Booking

Get discounts and cash backs on confirmed bus ticket reservation

Round the clock customer support
Covering over 60+ bus routes all across Mongolia, integration with more than 30+ bus operators, TGM's bus booking services are simply remarkable. Choose from the widest range of bus categories to book from including Mercedes, Howo, Gaz, Volvo AC, AC  sleeper, express and private buses. TravelGobiMongolia.com's Bus Booking provides you facilities like: Choosing your own pickup point, choosing your own seat in the bus etc. How nice will be seating in front seats with open window for seeing surrounding nature. Transactions can be made easily using debit/credit cards or net-banking and tickets can be cancelled online in case of changed travel plans.
International Bus Tickets Booking
There is 2 destinations, Erlian, China and Ulaan-Üüd, Russia, for international shuttle bus service. 
Zamyn-Üüd is bordor town in Mongolia-China border on the trans Mongolian railway. Erlian is Chinese side border town and also located on trans China railway. Between those towns, shuttle buses operate border crossing and immigration service. Food crossing is not allowed in Mongolia and Chinese border (also Mongolia and Russian border too). The borders are open every day except holidays.
If you are going to go to Ulaan-Üüd (Ulan-Ude), Russia, bus is might be the one of the most convenient form of public transport from Ulaanbaatar. There is also train option directly to go to Irkutsk which is located other side of Baikal Lake. Bus departs at 7.30am, and driving lasts 9-10 hours. Buses leave from outside the Discovery Mongolia Information Centre and contrast, an Ulaan-Üüd bus departs also at 07:30 for Ulaanbaatar, leaving from the Hotel Baikal in Ulan Ude.
Destinations
Passing towns
(stop over)
Ticket
prices
Departure time
from Zamyn-Üüd to Erlian
–
15 usd
07:30 everyday
from Ulaanbaatar (Bayanzurkh bus station) to Erlian
–
45 usd
07:00, 21:00 (2 departures) everyday
from Ulaanbaatar (Dragon bus station) to Ulaan-Ude
Khyakhta
30 usd
07:30, 19:00 (2 departures) everyday
Gusino Ozersk
40 usd
Ulaan-Ude
50 usd
* Bus from Erlian to Zamyn-Üüd leaves from Erlian at 13:30 and several other buses later in the afternoon around 15:00. The bus station on the corner of Chaha'er Street and Youyi Lu near to the Mongolian Consulate. Taking the 13:30 bus should give you enough time to get on the 17:35 Zamyn-Uud to Ulaanbaatar train.
Domestic Bus Tickets Booking
Here is major destinations for tourists. 
The bus leave Ulaanbaatar everyday.
| | | | |
| --- | --- | --- | --- |
| Destinations | Ticket prices | Departure times | Bus station names |
| Dalanzadgad, South Gobi | 20 usd | 08:00 | Bayanzurkh |
| Murun, Khuvsgul province | 20 usd | 08:00 | Dragon |
| Ulgii, Bayan-Ulgii province | 40 usd | 08:00 | Dragon |
| Zamyn-Uud, border town to China | 30 usd | 08:00 | Bayanzurkh |
| Sukhbaatar, border town to Russia | 20 usd | 08:00 | Dragon |
– Please send us your full name & passport number with the confirmed date to travelgobimongolia@gmail.com.
– Also, after a cancellation, bank charge must be covered by receiver (you) of that transaction. We accept Master and Visa cards.
– Cancellation and change date charges are follow the regulation of bus company.
How we collect the tickets?
There is e-tickets and customers have to print it out or take paper tickets from us from our office. Or TGM is able to deliver the paper ticket to your location but it is subject to charge.