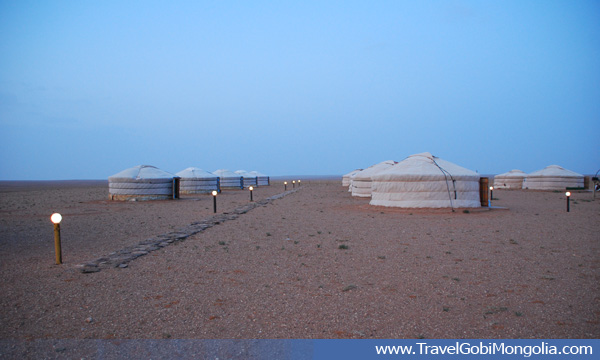 The Gobi Suvarga tourist camp is located near to Tsagaan Suvarga (White Stupe), sheer slope and was an old seabed with sedimentary structure created by millions years and the different colors of the ground represent different times. The formation is over 50 m in its highest point and continues 400 m.
Book your accommodation with most competitive prices for tourist ger camps across Mongolia
Easy compare rates and condition from our created and fully narrated template pages of each tourist ger camps
Online easy payment options and book online in a few steps
Better term and condition from contracted respected travel agency
Round the clock customer support
The tourist camp is one of the 2 tourist camps in this place. The tourist camp is small but its facilities, specially toilet and shower, work properly. This TC is connected to a well. Electricity is not connected yet to central electricity system and will come when they turn on the power generator evening, from 7pm -11pm. The camp area receives mobile signals of some operators and it allows you using calling and internet connection through your mobile phone.
Active period: Seasonal, from June to Sept.
Check in: any time after booking is confirmed
Check out: usually after breakfast, but after lunch is also possible
Location & address: Gobi Suvarga tourist camp, Tsagaan Suvarga, Ülziit sub-province, Dundgobi province.
From Gobi Suvarga TGC
Tsagaan Suvarga – 6 km
Del Uul – 40 km
| | | |
| --- | --- | --- |
| Service type | Prices for tourists (usd) | Prices for staffs (mnt) |
| Breakfast | 5.00 | 3,000 |
| Lunch | 7.00 | 8,000 |
| Dinner | 8.00 | 6,000 |
| Bed | 18.00 | 8,000 |
| Total rate per day per person | 38.00 | 25,000 |
|  Single Supplement | 10.00 |  – |
– Rate includes V.A.T /10%/.
– Group rates available upon request and long staying rates available upon request
Children Stay Free Policy: Children under 3 years stay free of charge, 4–12 years stay in 50% discount.
Cancellation policy: No show – 20%
For booking, please send us your email to  travelgobimongolia@gmail.com  or call or drop some SMS to our 7/24 on (+976) 9981 1918 or 8870 1918. We will get touch back to you within 24 hours.
This tourist ger camp has gers and is capable to host 30-40 guests at same time and the gers are made with traditionally and decorated with national patterns and comfort is applicable. They maybe provide basic amenities like slipper, bath towel and hot water. Gers have 2-4 beds and basically offered double/twin occupation. During peak season (05-20 July) you might be asked stay more than double occupancy with your group members but it is very uncommon.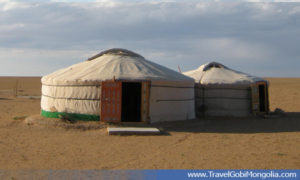 Dining: Restaurant, big ger is able to receive over 30 people at once. You will be served with European, Asian & Mongolian traditional dishes & get food order. Vegetarian food is available but need to inform.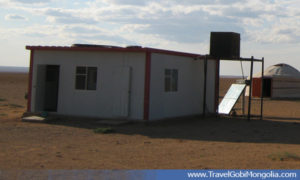 Toilet, shower and other facilities: Like other normal tourist camps, the TC has a separate building of public toilet and hot shower rooms. Its facilities, specially toilet and shower, work very properly. The public shower has 3 rooms in man and woman side.
Tour & Activities: There is 2 famous sites for explore. First one is a interesting cave which is 70 m long Khevtee Bosoo agui (Lie and Stand Cave) and not so far from the site. Second option is exploring Del uul (Back Mountain) for seeing rock drawings of Bronze Age. This is considered almost largest site of rock drawings in Central Asia. Also, you can visit to Tsagaan Suvarga (White Stupa) which is odd colored land wall.