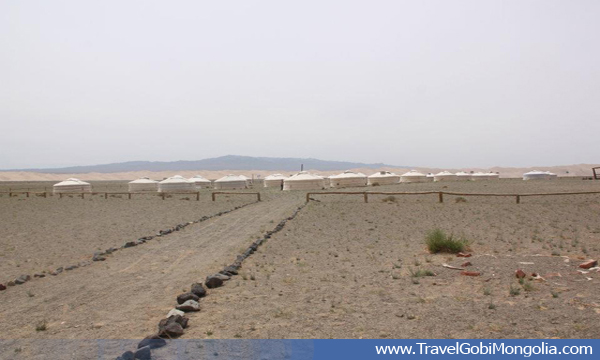 The Juulchin Gobi 2 tourist camp (officially Juulchin Khongor eco-lodge) is located at the Khongor sand dune, one of the world's most stunning oases, serves as the main hub for Gobi camel tours. The tourist ger camp is connected to water well by pipe and from here the Sand dune view is superb.
Book your accommodation with most competitive prices for tourist ger camps across Mongolia
Easy compare rates and condition from our created and fully narrated template pages of each tourist ger camps
Online easy payment options and book online in a few steps
Better term and condition from contracted respected travel agency
Round the clock customer support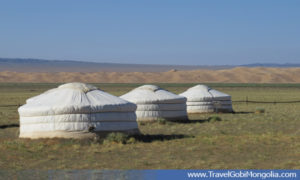 The tourist camp is one of the 4 tourist camps in this place. The tourist camp is bigger and its facilities, specially toilet and shower, work properly. This TC is only one  place in here that is connected to a well by pipes. Like other normal tourist camps, the TC has main building of restaurants and kitchen, smaller concrete building, attached to main building, of public toilet and shower rooms and ger accommodation. Electricity is not connected yet to central electricity system and will come when they turn on the power generator evening, from 7pm -11pm. The camp area receives mobile signals of some operators and it allows you using calling and internet connection through your mobile phone. Restaurant is nicely decorated by wooden wall and hanged a nice map of Gobi desert.
Active period: Seasonal, from June to Sept.
Check in: any time after booking is confirmed
Check out: usually after breakfast, but after lunch is also possible
A day tour services: available for a fee
Location & address: Juulchin Gobi 2 tourist camp is located near to Khongoryn els, Sevrei sub-province, Umnugobi, Mongolia
From Juulchin Gobi 2 TGC
– parking spot of Khongor Sand Dune: 6 km
– Khongor River: 4 km
Service type
Prices for tourist (mnt)
Prices for staff (mnt)
Breakfast
6,000
4,000
Lunch
18,000
12,000
Dinner
16,000
10,000
Bed
20,000
4,000
Total rate per day per person
60,000
30,000
Single Supplement
15,000
–
Rate includes: – V.A.T /10%/
Group rates and long staying rates available upon request
Child Policy: Children under 3 years stay free of charge, 4–6 years stay in 50%, 7-12 years stay in 30% discount.
Cancellation policy: No show – 100%
Dining: Like other tourist camps, this TC has its own restaurants which is big building.
Tour & Activities: From this TC you can do a day tour of 2 hours camel riding to the sand dunes. Camel hiring cost is 7000 mnt per hour not including same costs of camel man's camel. Climbing up to the sand dunes are also fun and requires physical strength from you.