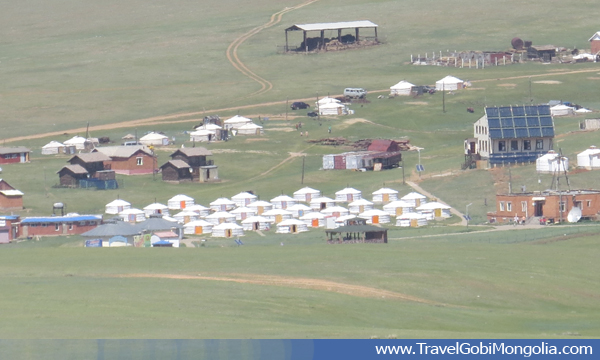 Khustai tourist camp is 100 km far from the Ulaanbaatar city, to the west. This is only place to stay in Khustai National Park. The National Park is home of re-introduced wild horses Takhi. Moilt is smaller and branch eco-lodge located inside of Khustai N.P.
Book your accommodation with most competitive prices for tourist ger camps across Mongolia
Easy compare rates and condition from our created and fully narrated template pages of each tourist ger camps
Online easy payment options and book online in a few steps
Better term and condition from contracted respected travel agency
Round the clock customer support
The tourist camp is little bit crowded by domestics and foreigners who is likely watch the wild horses. Its facilities, specially toilet and shower, work very properly. Like other normal tourist camps, the TC has a main building of restaurants and kitchen, smaller concrete building of public toilet and shower rooms and ger accommodation. Water is supplied by pipes from a well. Electricity is connected to central electricity system and 24 hours. The camp area receives mobile signal and it allows you using calling and internet connection through your mobile phone. In winter it receives 40, in summer 95 tourists. Moilt camp is also available in summer and able to serve 25 visitors per day.
Active period: all year around
Check in: any time after booking is confirmed
Check out: usually after breakfast, but after lunch is also possible
A day tour services: available for a fee
Location & address: Khustai tourist camp is located in Khustai National Park, Bayankhangai sub-province, Töv province, Mongolia
From Khustai TC
Ulaanbaatar – 100 km
Buurug Del Sands – 5 km
Service type
Prices for tourists (usd)
 Prices for staff
(driver and guide)
Standard Ger
Semi-Lux Ger
–
Lunch
16
16,000
Dinner
13
17,000
Bed with Breakfast
23
 33
13,000
Total rate per person
52
 62
46,000
Single Supplement
10
 –
Rate includes: V.A.T /10%/. Group rates available upon request and long staying rates available upon request
Child Policy: Children under 3 years stay free of charge, 4–12 years stay in 40% discount.
Cancellation policy: No show – 80%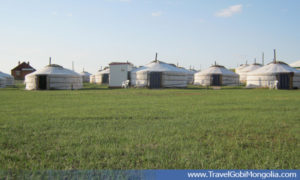 Dining: The center has a restaurants that is only one place to eat.
Facilities: Information center: The center displays photos, scripts, and illustrations on the takhi reintroduction, ecosystems, historical events and operations of Khustai National Park. Souvenirs shop: Small takhi souvenirs, presents, books, CDs, flowers album, felt production by local communities and Mongolian costumes.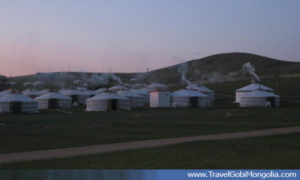 Tour & Activities: From this TC you can do a day tour to Khustai National Park for seeing wild horses. The center has basketball squire. Bicycles for rent are available, if you wish to enjoy bicycling and watching wild animals, birds and historical tombs. Horse riding is possible like other tourist camps and a hour fee is 5-10 usd.
For booking, please send us your email to  travelgobimongolia@gmail.com  or call or drop some SMS to our 7/24 on (+976) 9981 1918 or 8870 1918. We will get touch back to you within 24 hours.