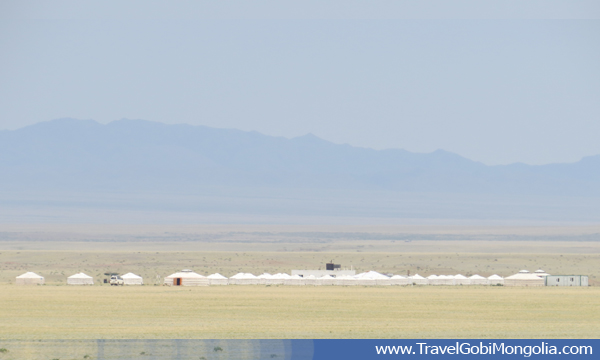 Mongol Gobi tourist camp is located near to Bayanzag which is most famous dinosaur site (first dino eggs were found) in the world. American zoologist Roy Chapman Andrews named this place as "End of the World".
Book your accommodation with most competitive prices for tourist ger camps across Mongolia
Easy compare rates and condition from our created and fully narrated template pages of each tourist ger camps
Online easy payment options and book online in a few steps
Better term and condition from contracted respected travel agency
Round the clock customer support
The tourist camp is one of the 4 tourist camps in this place. The tourist camp is bigger and its facilities, specially toilet and shower, work properly however it does not connected to a well. They transfer water from water by water tank. Like other normal tourist camps, the TC has main building of restaurants and kitchen, smaller concrete building, attached to main building, of public toilet and shower rooms and ger accommodation. Electricity is not connected yet to central electricity system and will come when they turn on the power generator evening, from 7pm -11pm. The camp area receives mobile signals of some operators and it allows you using calling and internet connection through your mobile phone. Some of ger accommodation of this tourist camp has a toilet room attached it.
Active period: seasonal, from June to Sept.
Check in: any time after booking is confirmed
Check out: usually after breakfast, but after lunch is also possible
A day tour services: available for a fee
Location & address: Mongol Gobi tourist camp, Bulgan sub-province, Ömnögobi province, Mongolia
Service type
Standard ger
Deluxe ger

Chilren

(under 12 years old)

Breakfast
6
4
Lunch
9
 7
Dinner
8
 5
Bed (based on double occupancy)
20
37
 9
Total rate per day
43
60

 27
Single supplement
15
Rate includes: – V.A.T /10%/
Group rates and long staying rates available upon request
Child Policy: Children under 3 years stay free of charge.
Cancellation policy: No show – 100%, 3-5 days before check-in – 50%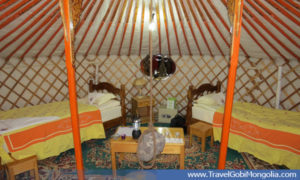 Ger accommodation (rooms): The TC has 30 standard and luxury ger accommodation with 2-4 beds.
Dining: Ger-restaurant in the tourist camp is able to receive 100-120 people at once & buildings are well equipped. High-specialized cooks & waiters serve you fast with European, Asian & Mongolian traditional dishes & get food order.
Facilities: The TC has laundry service, information center, luggage storage, souvenir shop etc.
Tour & Activities:  From this TC you can do a day tour of 2 hours camel riding to the Bayanzag. Camel hiring cost is 7000 mnt per hour not including same costs of camel man's camel. Climbing up to the sand dunes are also fun and requires physical strength from you. Also, the TC has some Mongolian traditional games such as uncle bone games and archery and it is free of charge.