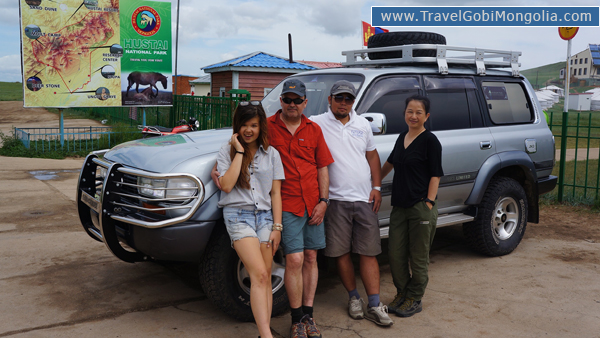 Experience the grandeur of the around Ulaanbaatar as you explore two fantastic National Parks on this exciting journey. Some travelers have very limited time in the country and have faced difficulties choosing Gorkhi-Terelj or Khustai. So this tour is contained 2 places and included many other activities.
– Watch & get the inside track on largest horseman statue in the World at Tsonjin Boldog Resort
– Ride sturdy Central Asian tarpan horse just like legendary nomads Mongols at Gorkhi-Terelj National Park
– Meet wild horse in their natural habitat and hike through the Khustai National Park with a skilled guide and learn about Takhi, wild horse, and other wildlife.
– Visit to authentic nomadic family & overnight in a traditional ger dwelling

Length: 2 days (departure time: 09:00 & arrival time 13:00)
Area: Around Ulaanbaatar
Type: Short Join Tour
Potential date and weather condition: all year around
Difficulty: easier – moderate (No experience necessary. Trips suitable for most ages and abilities)
Distance: driving: 350 km
Please carefully check what is include and what is not include in the prices!
210 usd p.p
190 usd p.p for if there is more than 2 people in your group
Included: 1 night in nomadic family ger, food service (L-1,D-1,B-1), land transportation, English speaking guide service, mineral water, all entrance fees and Government charges, all activities costs, sleeping bag
Not included: gratuities for staffs, personal expenses, travel insurance
Child policy: 0 – 3 years old baby free of charge. 4 – 12 years old child 30% discount (counted as 1pax).
Group policy: Up from 6pax please see our Group Service. Get better rate.
Day1. Gorkhi-Terelj National Park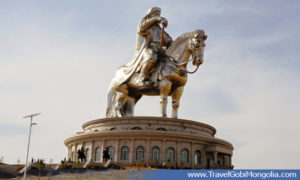 Pick up time: 09:00-09:20 o'clock
We will pick you up from your accommodation at 09:00 o'clock and drive to Tsonjin Boldog Resort (55 km). 40 m high Genghis Khan's Horse Statue is believed to be highest equestrian statue in the World. There's an elevator to observation desk on the top of the horse head.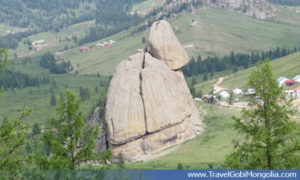 Then we will drive to Gorkhi-Terelj National Park (40 km). Situated 70 km northeast of Ulaanbaatar, Gorkhi-Terelj National Park is famous for its unique granite rock formations and pristine alpine scenery, and is a popular destination for tourists based in the capital and for Mongolians on weekend trips. See the gigantic Turtle Rock.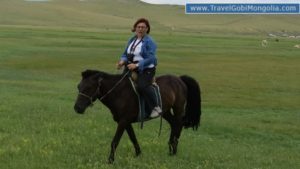 A 2 of hours is all you will need to enjoy the most breathe-taking views that no other horse stable in the Gorkhi river area can offer you! Nature lovers, horse lovers, young people or not so young, this trip is for everyone! This ride will take you back through the Turtle  Rock area to the beautiful sites and sounds of mother nature for a several mile journey up the mountain to view. With no experience required.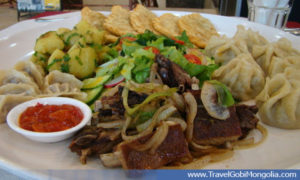 Lunch: The nomads of Mongolia sustain their lives directly from the products of domesticated animals such as cattle, horses, camels, yaks, sheep, and goats, as well as game. Meaty meals and limited vegetables.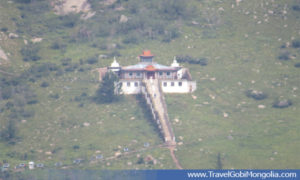 Then we will make short hike to picturesque lovely meditation Ariyabal Temple which is surrounded by scenic and rocky mountains and sits at middle of the them. Monks performs meditation ritual for many years amongst beautiful and tranquil mountains. It is not old temple. To get to the top, you would cross the suspension bridge and climb up on 108 stairs, according to Buddhist prayer beads. In the afternoon, you will have time to relax and enjoy the natural surroundings.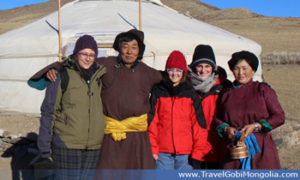 Then we will drive to our nomadic family (160 km). On arrival you will have dinner at the nomads' ger. Enjoy the joyful atmosphere and learn the clever nomads' way of life by taking every chance of taking part in the nomadic life activities like a nomad. Experience the milking cows or goats. Watch how they produce tasty and nutritious dairy products. Then, participate in the nomads' daily chores – prepare dried dung from a nearby mountain for the family's household use for making fire.
Day2. Khustai National Park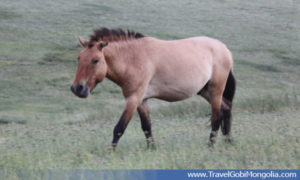 Next day morning, we will drive to Khustai National Park (30 km). National Park Khustai where re-introduction of the wild takhi horses (Przhevalsky's horses) has taken place since 1992. Takhi is last wild horse subspecies surviving in the 21st century. It was discovered in western Mongolia in the late 1870s by the Russian explorer N.M. Przhevalsky. Several expeditions since 1969 have failed to find this horse, which probably crossed with half-wild domesticated horses and lost its distinct features. Specimens have been kept and bred in zoos, and Mongolia in the late 20th century attempted to reintroduce them into the wild. Then we will drive back to Ulaanbaatar city (90 km) and you will transferred to your accommodation around 13:00 o'clock.
Our Booking is easy & complete in below steps.
Step1: 

 Send us your Booking Form (Only one of the group member's Booking Form is fine. No need to send us all member's booking forms)
Step2: 

 Select payment method and pay the Payment.
Step3: 

 You will be received an Voucher & Invoice from us via email.
Above prices are changeable by changing components (kind of services) of the itinerary.

This is a private tour and you or your travel buddies will be in the tour.

Domestic flight companies accept only 10kg-15kg lugguge incuding your carry on bags too for free transfer.

It is your responsibility to ensure you are in correct pick up location at correct time as stated on your booking form.

No smoking in travel vehicles or aircraft.
How long have you been in business?
We have been providing high-quality sightseeing travel  at low prices for over 10 years. Read our customer Testimonials. You can also see ratings and reviews of our tours from real travelers on the tour/activity details page. more Customers' FAQs
Please let us know should you have further inquiries! We are looking forward to assist you with organizing your stay in Mongolia and answering any questions you might have about this tour. We want your holiday experience in Mongolia to be as amazing as it is possible.