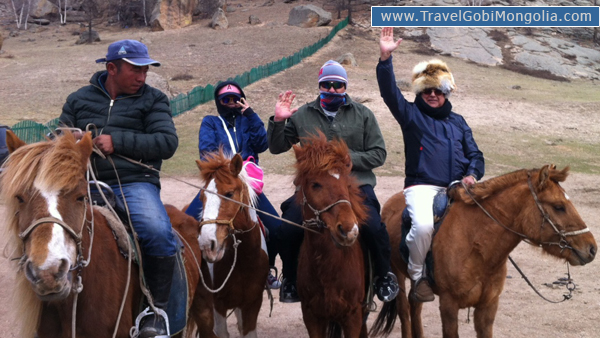 Mongolians are historically a nomadic people, and thus the horse is probably the most central part of Mongolian culture. Horse trekking in Gorkhi-Terelj is a must do activity if you visit to Mongolia! No matter what your experience level, a horseback ride through the Tuul River will give you lasting memories. Riding instruction is also available. Also, this tour included Genghis Khan's Horse Statue as bonus.
– Watch & get the inside track on largest horseman statue in the World at Tsonjin Boldog Resort
– Ride sturdy Central Asian tarpan horse just like legendary nomads Mongol warriors at Gorkhi-Terelj National Park


Length: 2 days
Area: Gorkhi-Terelj National Park
Type: short join tour
Potential date and weather condition: from May to November, in each year
Difficulty: easer – moderate (No experience necessary. Trips suitable for most ages and abilities)
Distance: driving: 180 km, horse trekking: 20 – 30 km
Please carefully check what is include and what is not include in the prices!
180 usd p.p
160 usd p.p if apply 2pax
Included: food service (L-1), land transportation, English speaking guide service, mineral water, all entrance fees and Government charges, all activities costs, sleeping bag
Not included: gratuities for staffs, personal expenses, travel insurance
Accommodation options: (Below prices will be added on the tour price)
Terelj Lodge TGC (including dinner & breakfast): 50 USD p.p
Tengeriin Elch TGC (including dinner & breakfast): 35 USD p.p
Local ger guesthouse (including dinner & breakfast): 15 USD p.p
Child policy: 0 – 3 years old baby free of charge. 4 – 12 years old child 30% discount (counted as 1pax).
Group policy: Up from 6pax please see our Group Service. Get better rate.
Day1. Full day horse trek at Gorkhi-Terelj National Park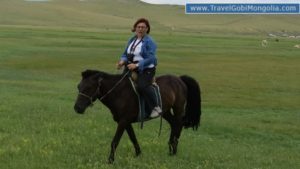 In the morning, we will pick you up from your accommodation and drive to Gorkhi-Terelj National Park (70 km). Meet the horses and start horse trek. A full day is all you will need to enjoy the most breathe-taking views that no other horse stable in the Tuul River area can offer you! This ride will take you back through the Turtle  Rock area to the beautiful sites and sounds of mother nature for a several mile journey up the mountain to view. With no experience required. Overnight in the nomadic family ger.
Day2. Tsonjin Boldog – Genghis Horse Statue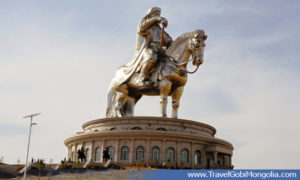 After breakfast time, we will drive to Tsonjin Boldog Resort (45 km). 40 m high Genghis Khan's Horse Statue is believed to be highest equestrian statue in the World. There's an elevator to observation desk on the top of the horse head. Also, there is 2 museums,  Military Armaments of Huns and Great Mongolian State.
Then we will drive to Ulaanbaatar city (55 km) and before lunch time, transfer to your accommodation.
Our Booking is easy & complete in below steps.
Step1: 

 Send us your Booking Form (Only one of the group member's Booking Form is fine. No need to send us all member's booking forms)
Step2: 

 Select payment method and pay the Payment.
Step3: 

 You will be received an Voucher & Invoice from us via email.
This is a short term join tour and you will go with other people.
It is your responsibility to ensure you are in correct pick up location at correct time as stated on your booking form.
No smoking in travel vehicles.
How long have you been in business?
We have been providing high-quality sightseeing travel  at low prices for over 10 years. Read our customer Testimonials. You can also see ratings and reviews of our tours from real travelers on the tour/activity details page. more Customers' FAQs
Please let us know should you have further inquiries! We are looking forward to assist you with organizing your stay in Mongolia and answering any questions you might have about this tour. We want your holiday experience in Mongolia to be as amazing as it is possible.