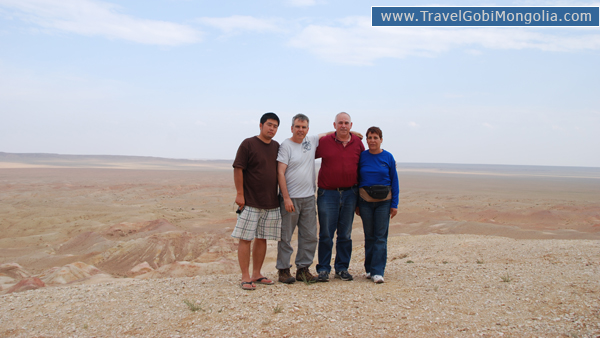 Watch Gobi Desert in easy way! Main town of South Gobi Desert Dalanzadgad was connected by paved road to Ulaanbaatar. 2 highlights of Middle Gobi, Tsagaan Suvarga and Baga Gazriin Chuluu, are located along this paved road which is good place to overnight. Then we also see the South Gobi's the biggest sights, Yol Valley, Khongor Sand Dune and Bayanzag respectively.
– Mostly drive on paved road
– Convenient trip for family and elder people
Length: 6 days
Area: Middle and South Gobi Desert
Type: private package tour
Potential dates and weather condition: from May to November, in each year.
Difficulty: easier – moderate (No experience necessary. Trips suitable for most ages and abilities)
Distance: 1750 km
Day1. Tsagaan Suvarga 

Day2. Bayanzag 

Day3. Khongor Sand Dunes

 Day4. Yol Vally 

 Day5. Baga Gazar Rocks

 Day6. Back to UB
We offer 2 different type of tour arrangements for our customers.
Standard Arrangement What is standard arrangement?
(Staying through the tourist ger camps) What is tourist ger camp?
1480 USD for 1pax
910 USD p.p for 2pax
720 USD p.p for 3pax
630 USD p.p for 4pax
530 USD p.p for 5pax
490 USD p.p for 6pax
Single supplement: 100 usd


Included: 

5 nights in tourist ger camp, food service, land transportation, English speaking guide service, all entrance fees and Government charges, all activities costs, sleeping bag, mineral water


Not included:

 gratuities for staffs, personal expenses (extra some drinks, souvenir buying, locals concerts etc), travel insurance
Budget Arrangement What is budget arrangement?
(Staying in the local ger guesthouses) What is local ger guesthouse?
1230 USD for 1pax
690 USD p.p for 2pax
510 USD p.p for 3pax
420 USD p.p for 4pax
370 USD p.p for 5pax
330 USD p.p for 6pax

Included:

 5 nights in local ger guesthouse, land transportation, English speaking guide service, all entrance fees and Government charges, all activities costs, sleeping bag


Not included:

 food service, gratuities for staffs, personal expenses, travel insurance
Child policy: 0 – 3 years old baby free of charge
4 – 12 years old child 30% discount (counted as 1pax)
Group policy: Up from 6pax please see our Group Service. Get better rate.
Discount policy: We always try to lower the our service prices by looking better solution for our customers. Here is several Discount Policy you can save until 10% that we can do on our best for our customers.
| | |
| --- | --- |
| ? | Why food service not included in the Budget Arrangement? You can buy meals from local ger guesthouses by paying only 2 or 3 usd per meal. There is plenty of food shops on the way when you are touring. You can carry your own food from UB. It is nice you eat our own breakfast and then buy meals for lunch and dinner. Meals will be basic and usually cooked Mongolian traditional or Russian styled foods. Or you can get basic free kitchen belonings from us and cook yourself. more other Customers' FAQs |
Day1. Tsagaan Suvarga Cliff – hiking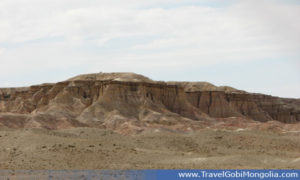 In the morning, we will pick you up from your accommodation and drive to Tsagaan Suvarga (470 km) on the paved road. It is sheer slope and was an old seabed with sedimentary structure created by millions years and the different colors of the ground represent different times. The formation is over 50 m in its highest point and continues 400 m and looks like a ancient ghost city form a distance.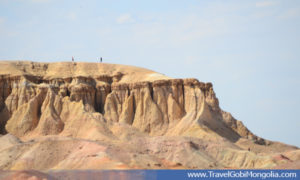 There is no clear date of geography research work and it is good spot take rest and overnight place driving to South Gobi desert from Middle Gobi desert. We will do some hiking around the site. Overnight there.
Day2. Bayanzag – the dinosaur site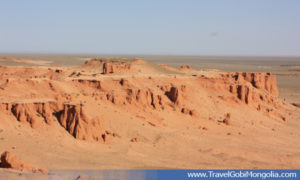 After breakfast time, continue the drive towards Bayanzag (240 km) mostly on the paved road. Bayanzag means saxual forest in English and area of red cliffs "Bayanzag" which have been formed from the erosion of the water and wind over many millions of years.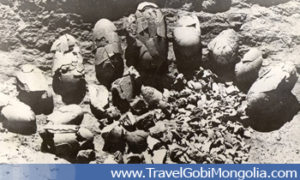 A lot of dinosaurs' findings such as Protoceratops & dinosaur' eggs have been found there in first time. American zoologist Roy Chapman Andrews discovered this place and named as Flaming Cliffs. The red colored cliffs themselves are very imposing from a distance, and are particularly fiery in the light of the setting sun.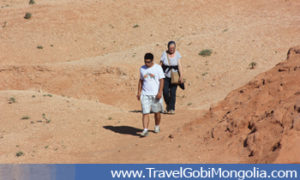 It is an interesting place to wander about to get a closer look at one of the world's most famous paleontological sites. In the evening we will walk around the site. Overnight there.
Day3. Khongor Sand Dune – camel riding & climbing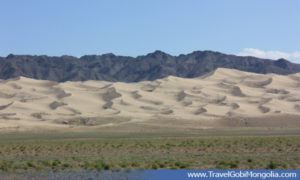 After breakfast time, we will drive towards Khongor Sand Dune (150 km). Khongor is second biggest sand dune in the country that extend along the northern side of Sevrei and Zoolun mountain ranges. It range from 5 to 10 km in width, nearly 100 km long, with crests rising 80 to 300m above the surrounding landscape.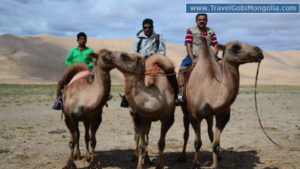 The booming sound produced by the masses of moving sand can be heard from afar when occurs windy day. Hence locals called it as Singing Sands. Near Khongor River at the northern edge of the dunes, there is an oasis.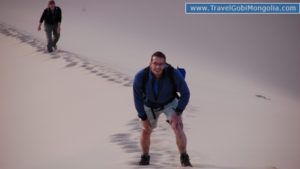 We will ride camels today to explore these massive sand-dunes and explore the area where climbing one of the dunes affords the energetic traveler with an unforgettable experience of endless vistas across a sea of daffodil-colored sand. Overnight there.
Day4. Yol Valley – a narrow gorger, horse ride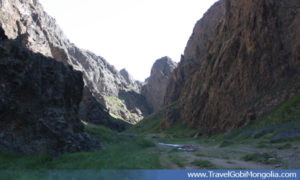 After breakfast time, we head to Yolyn Am (190 km). Yol means vulture in Mongolian and the valley begins from Zuun Saikhan Mountain, a branch of the Gurvan Saikhan Mountain range, and stretches over 10 km. The narrowest part, only 3 or 4 person can pass in same time, of the valley is completely shaded from the direct sun shine by high cliff walls.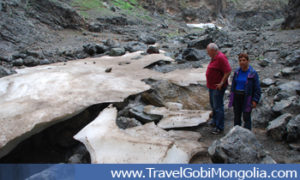 Also, the valley is famous for the fact that there is ice created in winter by small stream of the valley present there even during the hot summer months until end of Jul. The beauty of the valley, combined with the smell of juniper creates an atmosphere of awe and wonder – this is an experience not to be missed!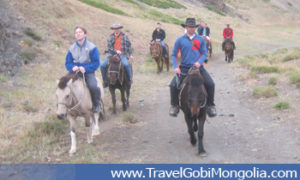 There we will ride horse through the valley. An hour hiking is also a nice activity there if you not like horse ride. As well, we visit to local natural museum of Gurvan Saikhan National Park. Overnight there.
Day5. Baga Gazar Rocks – rocky mountain, temple ruin, eye mineral water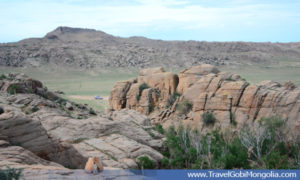 After breakfast time, we will drive to Baga Gazryn Chuluu (420 km) on the paved road. It is a null granite rock distinct mountain formation surrounded by plateau landscape. Highest point is 1765 m above sea level.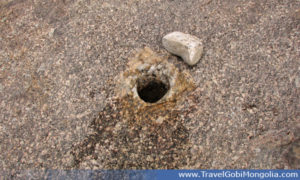 We will hike and explore there some interesting places such as a mountain mouth with aspen threes named Sudut Mouth with aspen threes and a ruin of a Buddhist temple, Jargalant Cave, eye mineral water etc. Overnight there.
Day6. Back to Ulaanbaatar
After breakfast time, we will drive back to Ulaanbaatar city (280 km) on the paved road. After arrive in the city, you will be transferred to yout accommodation and end the trip.
Our Booking is easy & complete in below 4 steps.
Step1: 

Please carefully read our Contract Of Private Package Tour. Cancellation & other condition will be follow this contract.
Step2:

Send us your Booking Form (Only one of the group member's Booking Form is fine. No need to send us all member's booking forms)
Step3: 

You will be received an Voucher & Invoice from us via email.
Step4: 

Select payment method and pay the Payment.
Above prices are changeable by changing components (kind of services) of the itinerary.
This is a private tour and you or your travel buddies will be in the tour.
Domestic flight companies accept only 10kg-15kg luggage including your carry on bags too for free transfer.
It is your responsibility to ensure you are in correct pick up location at correct time as stated on your booking form.
No smoking in travel vehicles or aircraft.
How long have you been in business?
We have been providing high-quality sightseeing travel  at low prices for over 10 years. Read our customer Testimonials. You can also see ratings and reviews of our tours from real travelers on the tour/activity details page. more Customers' FAQs
Please let us know should you have further inquiries! We are looking forward to assist you with organizing your stay in Mongolia and answering any questions you might have about this tour. We want your holiday experience in Mongolia to be as amazing as it is possible.