YOU WILL STAY IN THE TOURIST GER CAMP If you go in our Standard Arrangement.
In this arrangement you will stay in the tourist ger camp while you are traveling in countryside. So may admire that what is tourist ger camp. Here is very clear information what is tourist ger camp.
Comfortable arrangement
Provided hot shower & electricity supply
3 meals from the tourist ger camps in a day included 
| | | |
| --- | --- | --- |
| | ! | Tourist ger camps called many different versions like ger camp, Eco camp, ger lodge, tourist camp etc. Sometimes people mistake it with local ger guesthouse because some companies named very similar names like eco ger, guest ger etc. So be make sure that you are talking about the tourist ger camp or local ger guesthouse. They are very different each other. |
Below services included in our Standard Arrangement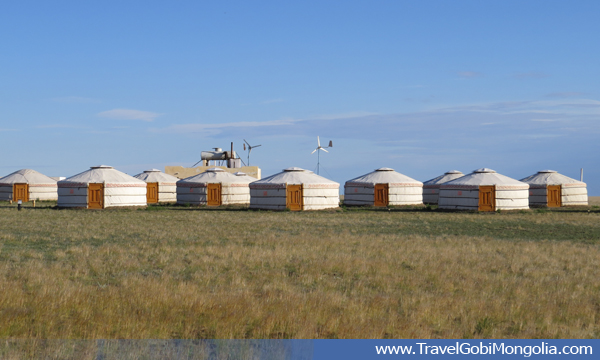 Tourist ger camp stay: Out of the city, tourist ger camps are the most commonly available full service facilities. They use the traditional dwelling, the felt covered ger, as guest rooms. Each ger normally has between 2 and 4 single beds in it, along with a traditional stove, a simple table, and sometimes cupboards and wash stands. There will generally be a central building that houses hot water showers, sinks, and western style toilets. This building will be some distance from your ger. In a separate building there will be a restaurant or dining room, and sometimes a bar or a recreation room. If a TGC was not connected to central electricity system, TGCs usually run a generator in the evening or provide lighting from solar charged batteries for some part of the night, allowing you to have light for using the washroom facilities, reading, charging your camera gears. Taking shower is possible. Normal price of the tourist ger camps are about 50 usd p.p including 3 meals.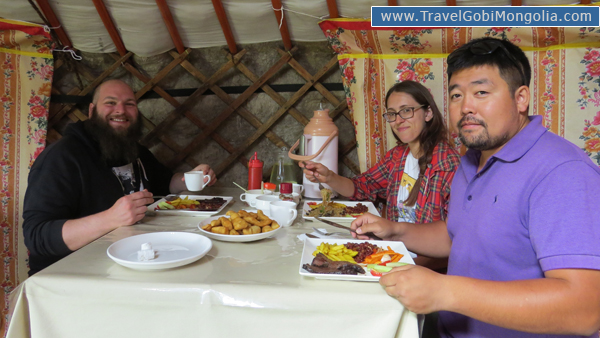 Food service: Standard Arrangement included food service. Normally tourist ger camps provide foods. Eating is a big part of traveling. Travelling with TGM you experience the vast array of wonderful food. Breakfast is western styled with fried egg and bred with some toasts and sometimes soup and other cooked vegetables. Lunch has salat or snack, soup and main course. Dinner is salat or snack plus main course. All meals with the tea or coffee. Also, mineral water will be provided.
Land transportation: TGM provides following transportation for the tour. A sedan car will be used on the paved road. For off road, we uses Japanese van for under 4pax and 5-6 pax can use Russian van.
Guide service: TGC is heavily pay attention toward guide service. Guides are at least have 2 or 3 years working experience.
All entrance fees and Government charges, all activities costs are included in the prices.
If you have further questions, please do not hesitate to CONTACT US via email to travelgobimongolia@gmail.com or call +976 99811918.