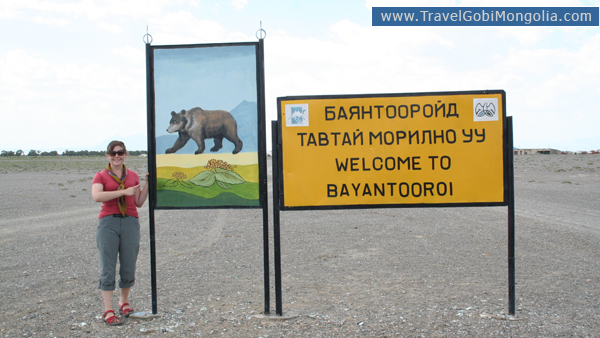 A trip to the Gobi desert offers you a real adventure into the far ultimate part, not touristic, of Gobi Desert which is called Inner Gobi of Altai and magnificent landscape. A stop for a breathtaking view of the endless desert will give you an opportunity to watch the sun-set over this tranquil scenery. Also, the drive takes you to some of the most famous less explored places such as Khermen Tsav and Bugyn Tsavs.
– Explore most wilderness part of Gobi Desert
– Hike around Central Mongolian alpine lakes
– Explore the capital of Genghis Khaan – Karakorum
Length: 17 days
Area: Ultimate Gobi desert & Central Mongolia
Difficulty: easier – moderate (No experience necessary. Trips suitable for most ages and abilities)
Distance: driving: 1720 km (+580)
Group size: min 4pax – max 12pax
Age requirement: 12+ All travellers under age 18 must be accompanied by an adult.
Personal Departure: this tour is not possible for personal departure.
Trip grading: moderate
By days: 
Day1. Karakorum
Day2. Ongi Monastery Ruin
Day3. Bayanzag
Day4. Khongor Sand Dune
Day5. Sevrei Rock Painting & Nemegt Valley
Day6. Naran Daats & Zulganai Oasis
Day7. Khermen Tsav
Day8. Ulziit River, Nogoon Tsav
Day9. Zarman Oasis
Day10. Eej Khairkhan Mountain
Day11.
Day12. Khovd town
Day13. Ulgii town
Day14. Altai Tavan Bogd National Park
Day15. Potanin's Glacier Day4. Khoton Khurgan Lake
Day16. Eagle Hunter
Day17. Fly back to UB
2600 usd p.p
Included: 4 nights in tourist ger camp, 2 nights in the local hotel, 8 nights in the tent, food service, land transportation, English speaking guide service, mineral water, all entrance fees and Government charges, all activities costs, sleeping bag, domestic flight drop off & pick up
Not included: one way domestic flights, gratuities for staffs, personal expenses, travel insurance
Day1. Karakorum – capital city of Genghis Khan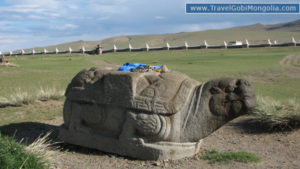 We will pick you up from your accommodation and drive to Karakorum (360 km). Karakorum, the capital of Great Mongolian State where today there is a small local township. In the history, the city of Karakorum was founded in 1220 in Orkhon River Valley by order of Genghis Khan and after collapsing of Yuan dynasty of Khuvilai Khan Min state's invaders sacked the city and massacred its inhabitants in 1388 and ruined it.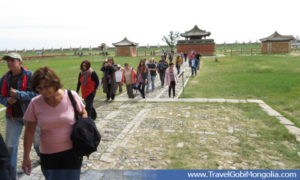 After 200 years, Erdene Zuu, built in 1586, is the first Buddhist monastery to have been built in Mongolia and by various construction materials were taken from the ruins of Karakorum. At its peak in the late 18th century the complex of ornate gardens and 62 temples was home to over 1000 lamas. But in 1937, by communist purges the whole monastery completely destroyed.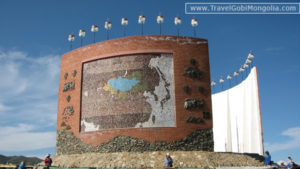 We will visit to Karakorum Museum, Karakorum Ruin Open Museum and Erdene Zuu Monastery Complex respectively. Overnight there.
Day2. Visit to nomadic family and Ongi Monastery Ruins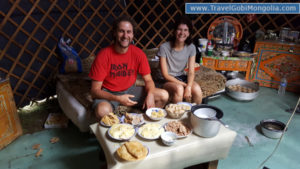 After breakfast time, we will drive to a nomadic family. Enjoy the joyful atmosphere and learn the clever nomads' way of life by taking every chance of taking part in the nomadic life activities like a nomad. Experience the milking cows or goats. Watch how they produce tasty and nutritious dairy products. Taste their drink Airag (horse milk). Then, participate in the nomads' daily chores – prepare dried dung from a nearby mountain for the family's household use for making fire. Then we will drive to Ongi Monastery Ruin (270 km).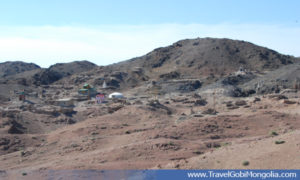 On the route, you will realized open grassland steppe gradually changing to arid semi desert nature. Ongi Monastery Ruins is the visible ruins of a Buddhist monastery founded in 1760 and destroyed in 1937 by communists. Located on the shore of the Ongi River, the monastery was formerly one of the largest monasteries in Mongolia. Raw violence of the destruction at Ongiin Khiid was still visible, still palpable, even though it happened over years ago.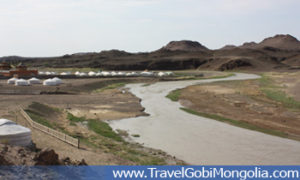 It is a good place for overnight of traveling between Central Mongolia and Gobi. We will hike to the ruins for visiting to local ger museum displayed survived objects of destroyed monastery and a small lovely and active Buddhist temple. Overnight there.
Day3. Bayanzag – dinosaur site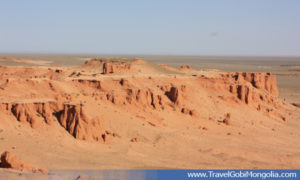 After breakfast time, continue the drive towards Bayanzag (170 km). On the route, you will see "high way" of Gobi Desert. Bayanzag means saxual forest in English and area of red cliffs "Bayanzag" which have been formed from the erosion of the water and wind over many millions of years.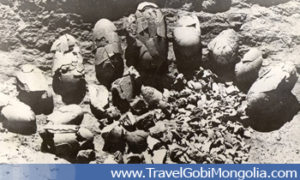 A lot of dinosaurs' findings such as Protoceratops & dinosaur' eggs have been found there in first time. American zoologist Roy Chapman Andrews discovered this place and named as Flaming Cliffs. The red colored cliffs themselves are very imposing from a distance, and are particularly fiery in the light of the setting sun.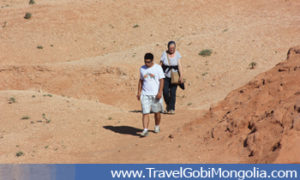 It is an interesting place to wander about to get a closer look at one of the world's most famous paleontological sites. In the evening we will walk around the site. Overnight there.
Day4. Khongor Sand Dune – camel riding and sand dunes climbing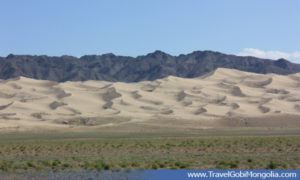 After breakfast time, we will drive to Khongor Sand Dune (150 km). Khongor is second biggest sand dune in the country that extend along the northern side of Sevrei and Zoolun mountain ranges. It range from 5 to 10 km in width, nearly 100 km long, with crests rising 80 to 300m above the surrounding landscape.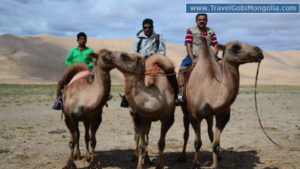 The booming sound produced by the masses of moving sand can be heard from afar when occurs windy day. Hence locals called it as Singing Sands. Near Khongor River at the northern edge of the dunes, there is an oasis.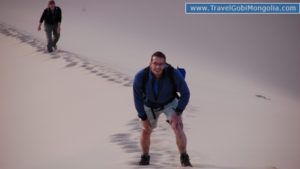 We will ride camels today to explore these massive sand-dunes and explore the area where climbing one of the dunes affords the energetic traveler with an unforgettable experience of endless vistas across a sea of daffodil-colored sand. Overnight there.
Day5. Sevrei Rock Painting & Nemegt Valley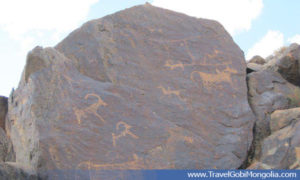 After breakfast time, we will drive to Sevrei Rock Painting (60 km). It is situated in the Sevrei Mountain, has one of the world's greatest collections of prehistoric petroglyphs – figures carved in the rock over a period of 3,000 years and depicting themes connected with animal husbandry, navigation, war and magic. The number, duration and variety of the engravings, representing for example navigation, dance, war and ploughing and their relationship with contemporary archaeological sites, contribute to the exceptional value of this assemblage.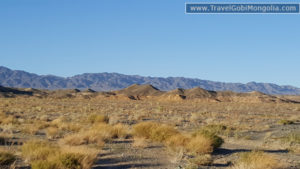 After lunch time, we will drive to Nemegt Valley (140 km). In these days we will see the natural wonder and historical sight Nemegt Valley. It is the place which is protected as belonging to  National Park Gobi Gurvan Saikhan by the government. There is many fossilled remains and findings of dinosaurs and some of them are protruted on the surface of the land. Overnight in the tent.
Day6. Naran Daats Spring & Zulganai Oasis – hiking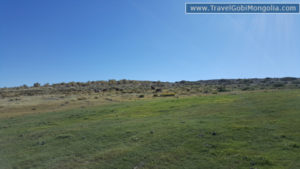 After breakfast time, we will drive through saxaul-filled desert oases Naran Daats (105 km). We will walk around the spring and relax in silence. After lunch time, we will drive to Zulganai Oasis (35 km). It's a sight everyone should see!
Then we will drive to Zulganai oasis, a small river oasis named "Zulganai" is the last oasis in Mongolia, untouched nature. The oasis is located 30 km far from Khermen Tsav. The lush green carpet of shrub land and fields sit in stark contrast to the barren hills in the background of this typical oasis. No one can say for certain where the name "Zulganai" came from. We will walk through the oasis and discover it. Overnight in the tent.
Day7. Khermen Tsav – ultimate wonder of Gobi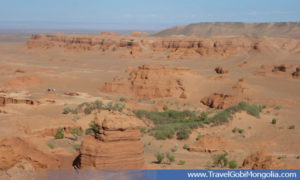 After breakfast time, we will drive to Khermen Tsav (40 km). It is most famous canyon of Gobi desert. In translation it means as Khermen – "citadel" and Tsav means "crack". It is the most legendary impressive place with its color and contrast because this deep canyon has been forming over thousands of years from water and wind erosion.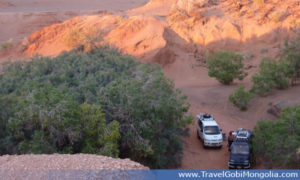 Khermen Tsav is a geologic museum of epic proportions, where earth's many million year history is displayed. We will walk around there and explore the site. Overnight in the tent.
Day8. Ulziit River & Nogoon Tsav
After breakfast, we will drive to Ulziit River /80 km/. This is an small river located in the middle of lifeless Gobi Desert and the grasses around the spring grows very high. It is an good place for overnight. After lunch time we will go to Bugiin Tsav /60 km/ for looking dinosaur possils remains. Overnight in the tent.
Day9. Zarman Oasis
After breakfast, we will drive to Zarman Oasis /200 km/. This is a simple oasis at Gobi Desert and located the middle of big 2 mountain range. It is an good place to sleep.
Day10. Eej Khairkhan Mountain
After breakfast, we will drive to Eej Khairkhan Mountain /100 km/. For centuries, Eej Khairkhan Mountain was reserved and worshipped by the locals in their belief that mountain blessed families with children. The nine green-framed stone pots, which are set aside the deep rocky strip near the solitary mountain, cut off the Gobi Middle Mountains, on the western side of Eej Khairkhan Mountain very much attract the interests of nature lovers and conservators. When the first pot is filled up, it creates a little waterfall by spilling its excess water to the next pot through the stone threshold, which is 40-50 cm long. Her twin peaks, resembling breasts, standing alone in the desert brought comfort to countless lonely caravan men who could see her from far off and eventually she became known as Eej Khairkhan Uul (Mother Dearest Mountain).
Day11-12. Ulgii town
After breakfast time, we will drive to Ulgii town (400 km). Ulgii is bigger town at West Mongolia. We will visit to local food market. Overnight in the hotel.
Day13. Altai Tavan Bogd – snow capped mountains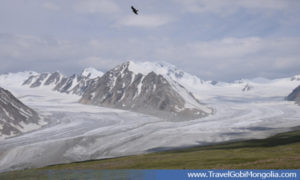 After breakfast time, we will drive to Altai Tavan Bogd Nationla Park (170 km). The name Altai comes from the Turkish word Ala-Tau, which means red mountain. Altai is a braid that intertwines high mountain ranges of incomparable beauty alternating moorlands, gorges, rivers and valleys sprinkled with small towns rich with culture and old traditions.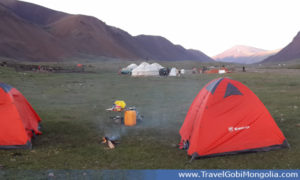 There are pristine lakes and rivers, glacier parks, snow-capped peaks, and green mountain forests. There is 19 km long Potanin's Glacier. Overnight in the tent.
Day14. Potanin's Glasier – horse trek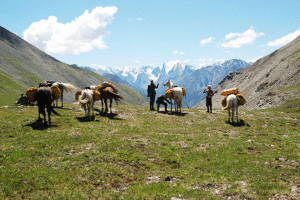 After breakfst time, we will enjoy an exhilarating horseback pack trip through untamed wilderness and panoramic scenery. The horseback riding enthusiast will experience an unforgettable excursion through timbered ridges and mountain meadows. We offer horse pack trips suited for all ages and abilities with rides varying in length. Horse pack trips allow you to reach deep into the southern Siberian wilderness.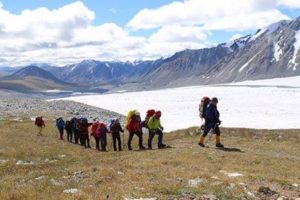 Horseback riding and fun are the main objectives on horse pack trips combined with good nomad's Mongolian hospitality. Saddle up the whole family for an unforgettable horseback riding adventure. In the evening, we will come back to the our base camp and overnight in tent.
Day15. Khoton & Khurgan Lakes – waterfall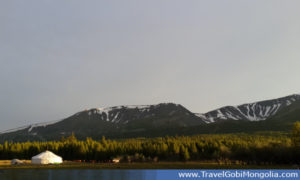 After breakfast time, we will drive to Khoton & Khurgan Lakes (210 km). Located over 2000 m above sea level, both lakes are connected each other by 3 km long Sirgaal Channel. Surrounding nature is very picturesque, snowcapped mountains with coniferous forest and pristine clear streams gers of Kazakh people and pasturing yaks.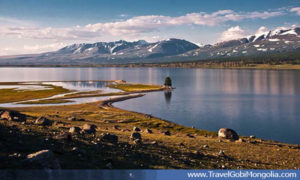 There are about 20 islands in the lakes which are the home of home to many species of red listed birds: whooper swan, goose, eagle, hooded crane and various species of ducks. There is a nice waterfall Goojuur. Overnight in the tent.
Day16. Eagle Hunter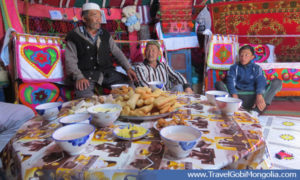 After breakfast time, we will drive to Sagsai Valley (133 km). There we will visit to eagle hunter family. Hunting with Golden Eagle is one of the most unique features of the Kazakh life. The hunter is named kusbegi or berkutchi. The experience of wild birds training was gained by Kazakh kusbegi by centuries, the secrets were impacted from the father to the son and kept deep secret.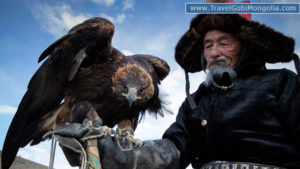 At the present time we can meet few people with such name. These masters have innate gift of wild birds training. After dinner time, we will drive to Uglii town (27 km) and overnight in the local hotel.
Day17. Fly back to Ulaanbaatar.
After breakfast time, we will drive to Ulgii and fly back to Ulaanbaatar. After you arrive in the city, our driver will pick you up and transfer to your drop off place.
Our Booking is easy & complete in below 4 steps.
Step1: 
 Please carefully read our Contract Of Private Package Tour. Cancellation & other condition will be follow this contract.
Step2: 
 Send us your Booking Form (Only one of the group member's Booking Form is fine. No need to send us all member's booking forms)
Step3: 
 You will be received an Voucher & Invoice from us via email.
Step4: 
 Select payment method and pay the Payment.
Above prices are changeable by changing components (kind of services) of the itinerary.
This is a private tour and you or your travel buddies will be in the tour.
Domestic flight companies accept only 10kg-15kg lugguge incuding your carry on bags too for free transfer.
It is your responsibility to ensure you are in correct pick up location at correct time as stated on your booking form.
No smoking in travel vehicles or aircraft.
How long have you been in business?
We have been providing high-quality sightseeing travel  at low prices for over 10 years. Read our customer Testimonials. You can also see ratings and reviews of our tours from real travelers on the tour/activity details page. more Customers' FAQs
Please let us know should you have further inquiries! We are looking forward to assist you with organizing your stay in Mongolia and answering any questions you might have about this tour. We want your holiday experience in Mongolia to be as amazing as it is possible.