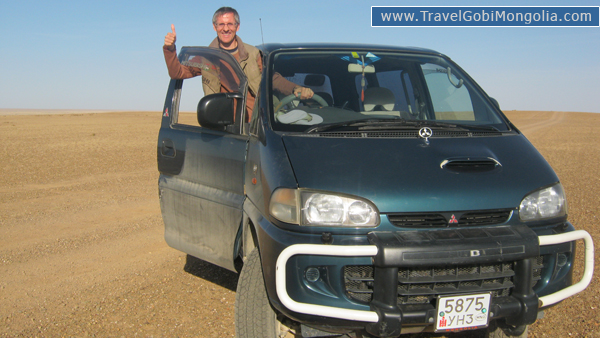 This is very adventure tour.
– Explore the capital of Genghis Khaan – Karakorum
– Explore most wilderness part of Gobi Desert
Length: 18 days
Area: Ultimate Gobi desert & Central Mongolia
Difficulty: moderate (No experience necessary. Trips suitable for most ages and abilities)
Distance: driving: 3820 km (+800)
Group size: min 4pax – max 12pax
Age requirement: 12+ All travellers under age 18 must be accompanied by an adult.
Personal Departure: this tour is not possible for personal departure.
Trip grading: moderate
By days: 
Day1. Ugii Lake & Karakorum
Day2. Ongi Monastery Ruins
Day3. Bayanzag (Flaming Cliffs)
Day4. Khongor Sand Dunes
Day5. Naran Daats Oasis
Day6. Khermen Tsav
Day7. Ekhiin Gol Oasis
Day8. Zuun Mod Oasis
Day9. Bayankhongor town
Day10. Galuut Canyon
Day11. Nomadic family
Day12. Otgontenger Holy Mountain
Day13. Sogoo
Day14. Gandan Lake
Day15. Murun town
Day16. Khuvsgul Lake National Park
Day17. Khuvsgul Lake National Park
Day18. Fly back to UB
4000 USD for 1pax
3850 USD p.p for 2pax

Single supplement:

 230 usd


Included:

 6 nights in Tourist Ger Camp, 9 nights in the tent, 2 night in local hotel, food service, land transportation, English speaking guide service, mineral water, all entrance fees and Government charges, all activities costs, sleeping bag and camping gears, OW domestic flight, domestic flight drop off


Not included:

 gratuities for staffs, personal expenses, travel insurance
Child policy: 4 – 12 years old child: 30% discount (counted as 1pax)
Discount policy: We always try to lower the our service prices by looking better solution for our customers. Here is several Discounts you can save until 10% that we can do on our best for our customers.
Day1. Lake Ugii & Karakorum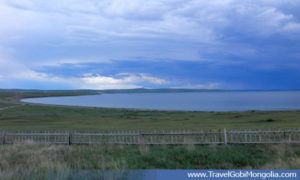 breakfast time → drive to Lake Ugii /350 km/ → lunch time →drive to Kultegen and Bilge Khaan's Legendary Monuments /20 km/ → visit to the site → drive to Karakorum /68 km/ → see Great Imperial Map → lunch time → visit to Erdene Zuu monastery complex and its turtle rocks → dinner → free time → overnight in Kharkhorin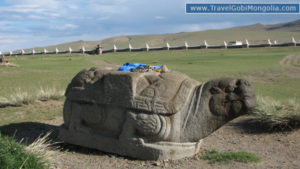 Lake Ugii is nearest lake to Ulaanbaatar capital city. It is also called a paradise for fishers and located in the territory of Arkhangai province, the central part Mongolia.  Tough this small lake covers area of only 61 km.sq, it is the main destination for fishers and boating adventurers. If you want we can do some boating experience and fishing there!
Kultegen and Bilge Khaan's Legendary Monumentswhich is belong to Turkish culture of VIII century.
Karakorum, the ancient capital of Mongolia where today there is a small local township. On arrival you will notice the first and most obvious landmark which is the massive wall of monastery Erdenezuu. The monastery was built in 1586 by a well-known Mongolian king called Abtai Sain Khaan, and is surrounded by a vast 400m wall. Not a single nail was used in the construction of the ornate temples, only a few of which remain standing after the communist purges. In previous times the grounds held over 60 temples with 10,000 monks using them for their daily worship.
Day2. Ongi monastery ruins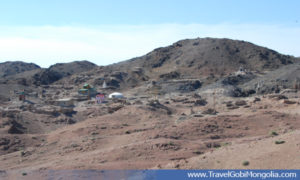 breakfast time – drive to Ongi monastery ruins /250 km/ – lunch time – visit to Ongi monastery ruins – dinner time – free time – overnight around Ongi monastery ruins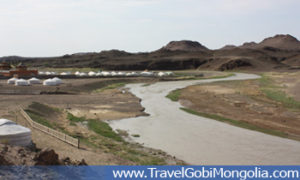 During the way visit the mountainside remains of the Ongiin Khiid, which now has a small number of novices after years of turmoil. There we will enjoy the peace and beauty of the Delger Khangai Mountains.
Day3. Bayanzag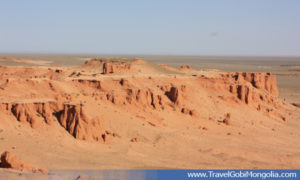 breakfast time – drive to Bayanzag /180 km/ – lunch time – ride camel – dinner time – hike around Ulaan Ereg (Flaming Cliffs) – overnight around Bayanzag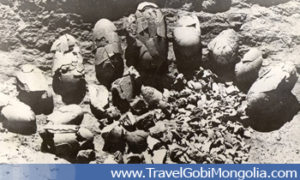 Bayanzag, a saxual forest and area of red cliffs "Bayanzag" which have been formed from the erosion of the sand and rock over many thousands of years. A lot of dinosaurs' findings such as skeleton & dinosaur' eggs have been found there. Before reach in Bayanzag, we will see Gobi precious stone market.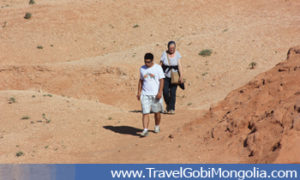 It is really interesting. American zoologist Roy Chapman Andrews named this place as "End of the World". As scientists defined it was an inland sea bottom some 200 million years ago. The Flaming Cliffs themselves are very imposing from a distance, and are particularly fiery in the light of the setting sun, and it is an interesting place to wander about to get a closer look at one of the world's most famous paleontological sites. Also, we will visit local dinosaur ger museum.
Day4. Khongoriin Els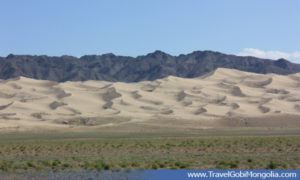 breakfast time – drive to Khongoriin Els (Sand dunes Khongor) /120 km/ – lunch time – free time – dinner time – climb up to the sand dunes and hike around it – overnight around Sand dunes.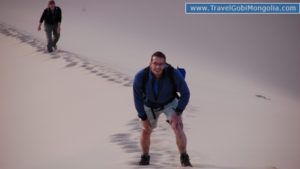 Khongoryn Gol. After dinner time, we will explore the area, climbing one of the dunes affords the energetic traveler with an unforgettable experience of endless vistas across a sea of daffodil-colored sand. The dunes extend for 185 kilometers and include dunes that can reach 80 meters in height.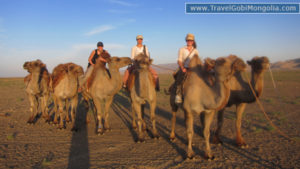 The sound produced by the masses of moving sand can be heard from afar, and when it occurs, it is said that it can be mistaken for the sound of an aero plane. Hence their name is 'singing sands', or 'musical sands'. Near Khongor Gol (River Khongor) at the northern edge of the dunes, there is an oasis. More…
Day5. Sevrei, Gurvan Tes, Naran Daats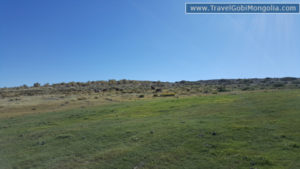 breakfast time → drive to Sevrei sum (sub-provincial center) /35 km/ → drive to Sevrei Mountain /20 km/ for seeing Sevrein khadnii sug zurag (rock drawings of Sevrei) → lunch time → drive to Gurvan Tes sum (sub-provincial center) /120 km/ → dinner time → drive to Oasis Naran Daats /70 km/ → overnight around Oasis /tent/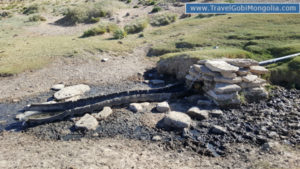 The stone carvings of Sevrei khadny sug zurag constitute one of the largest collections of prehistoric petroglyphs in Mongolia. The collection was recognized by Mongolian cultural heritage site. The figures are sometimes simply superimposed without apparent order. Others instead appear to have a logical relationship between them; for example, a picture of a religious rite or a hunting scene or fight. This approach explains the scheme of images, each of which is an ideogram that is not the real object, but its "idea". Their function pertains to celebratory rituals: commemorative, initiatory and propitiatory; first in the field of religion, then later even secular, which were held onn special occasions, either single or recurrent.
Gurvan tes is very small town and sub-provincial center of Gurvan Tes sub-province of Ömnögobi province of Mongolia.
Day6. Khermen Tsav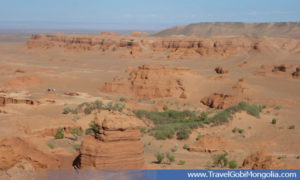 breakfast time → drive to dinosaur site & natural beauty Khermen Tsav /60 km/ → lunch time → hike around the site → dinner time → free time → overnight around Khermen Tsav /tent/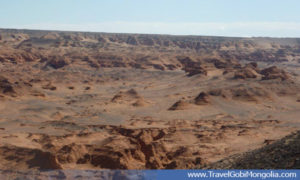 From there, we will drive through saxaul-filled desert oases Naran Daats to the most famous canyon of southern ultimate Gobi desert: the spectacular Khermen Tsav. In translation it means as Khermen – "citadel" and Tsav means "crack". It is the most legendary impressive place with its color and contrast because this deep canyon has been forming over thousands of years from water and wind erosion.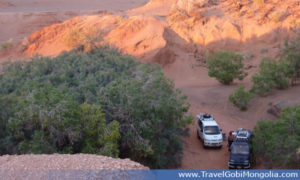 Khermen Tsav is a geologic museum of epic proportions, where earth's many million year history is displayed.  It's a sight everyone should see!
Day7. Ekhiin Gol Oasis – Biggest oasis in Gobi Desert
breakfast time → drive to biggest Oasis of Gobi Desert Ekhiin Gol (Mother's River) /80 km/ → lunch time → visit to locals' agricultural plant husbandry site → hike to Jaagiin Ovoo Mountain /3 hours/ and River Ekhiin Gol /2 hours/ → dinner time → free time → overnight in Ekhiin Gol small village /home of locals/
Ekhiin Gol, this oasis is hidden in the depths of the Gobi desert, where a number of green oases dot the landscape.  During years of 1980 this oasis used to be an important agricultural research station. Nowadays, there is about about 20 families remain. Here grow tomatoes, cucumber, watermelon, peppers and some fruit, which are sold locally. Getting the produce to other markets is nearly impossible, as there are no flights, and the provincial center is 400 km away along a rough dirt track.
Day8. Zuun Mod Oasis
breakfast time → drive to dinosaur site & natural beauty Nogoon Tsav /50 km/ → hike around Nogoon Tsav → drive to Oasis Zuun Mod (Hundreds Trees) /35 km/→ lunch time → drive to Shinejinst (sub-provincial center) /80 km/ → overnight in Shinejinst.
Zuun Mod (One Hundred Trees Oasis). This small oasis on the northern edge of the Gobi desert provides food and drinking water for herders and their livestock. The saxaul "forest" in the background is characteristic of the Gobi.
Day9. Bayankhongor
breakfast time → drive to natural beauty Mountain Ikh Bogd /80 km/ → lunch time → res time  → drive to provincial center Bayankhongor /180 km/ → dinner time → free time → overnight in Bayankhongor town
Bayankhongor is provincial center of Bayankhongor province.
Day10. Galuutiin Khavtsal
breakfast time → drive to Galuut sub-provincial center /80 km/ → drive to natural beauty Galuutiin Khavtsal (Goose Gorge) /20 km/ → lunch time → hike and relax around the picturesque Gorge → dinner time → overnight around the Gorge /tent/
Today we will reach in  Galuutyn Khavtsal (Goose Gorge) which is located 20 km from Galuut (Goose) sub-provincial center and the Gorge is the most picturesque of all the gorges in the Mongolia. It was created by erosion from the Galuut Gol (Goose River) over thousands of years. The Grand Canyon is approximately 2 kilometers long. It is 100-150 meters deep in places, and as much as 10-20 meters wide. The rocky sides drop very steeply. The River is very fast flowing, so has plenty of energy for erosion and the size of narrowest wide of the river is 3-5 meters and water flow makes strong noises in this place.
Day11. Nomadic family
breakfast time → drive to Shar Us gol /250 km/→ lunch time → visit to nomadic family → dinner time → free time → overnight in nomadic family /tent/
En route, we will visit to nomadic family have lunch at the nomads' ger. Enjoy the joyful atmosphere and learn the clever nomads' way of life by taking every chance of taking part in the nomadic life activities like a nomad. Experience the milking cows, goats and sheep. Watch how they produce tasty and nutritious dairy products.
Day12. Otgontenger
breakfast time → drive to Uliastai town /150 km/→ lunch time → drive to Strictly Protected Area Ongontenger uul /100 km/→ dinner time → hike around the Mountain – overnight around the Mountain /tent/
Mount Otgontenger uul is the highest mountain of Central Mongolian Mountain Range Khankhai at 4,021 m. Mount Otgontenger lies about 100 kilometres (60 miles) east of Uliastai, and can be seen from there on a clear day. It is not surprising that the nearly perfectly shaped mountain has been worshiped as a sacred mountain and experienced big popularity among artists and common people. If you want to enjoy Mount Otgontenger at a more leisurely pace and from a nice natural surrounding, you should head to the Lake Badarkhundaga nuur at the foot of the mountain, a nearby tourist camp.
Day13. Sogoo
breakfast time → drive to Sogoo /100 km/→ lunch time → continue drive to Sogoo /100 km/→ dinner time → free time → overnight in Sogoo
Sogoo is small village that is located in picturesque valley of River Sogoo.
Day14. Gandan nuur
Breakfast time → drive to Gandan nuur /60 km/ → lunch time → hike around the Lake → dinner time → free time → overnight around Gandan nuur /tent/
This is a place situated in the North Mongolia close to the border with Russia. This is just a small part of a lovely, picturesque place in northern Mongolia called Gandan nuur. This is an ideal spot for holiday makers. If you look for nature at its best or you like hike this is an ideal place to come.
Day15. Murun
breakfast time → drive to Mörön town /150 km/ → lunch time → visit to local museum → dinner time → overnight in Mörön town
Mörön is small town and provincial center of Khövsgöl province.
Day16. Khövsgöl nuur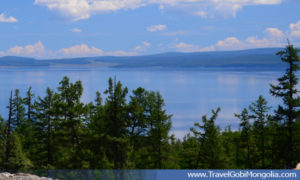 breakfast time → drive to deer stone site Uushigiin övör /10 km/→ see deer stone sites of Huns period → drive to National Park Lake Khövsgöl Nuur /110 km/ → lunch time → cross Mountain Pass Jankhai /35 km/ → dinner time → free time → overnight in National Park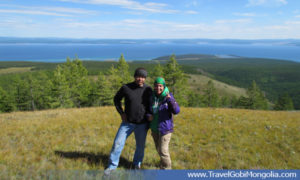 Northern Mongolian travel boast two of Northern Mongolia's most impressive spots, Khövsgöl nuur and Darkhad depression. A slice of paradise right in our doorstep, Khuvsgul Lake N.P offers a kaleidoscope of attractions and activities. Once you step afoot the shore of the huge lake , be mesmerized by the breathtaking beauty of the lush greenery asps pine arch black forest, with exciting attractions that will certainly blow you away! It's a themed attraction, Siberian resort, Nature Park and heritage centre all rolled into one! more…
Day17. Khövsgöl nuur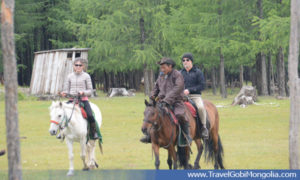 breakfast time → horseback riding /3 hours/ → lunch time → visit to reindeer herder family → dinner time → free time → overnight in the National Park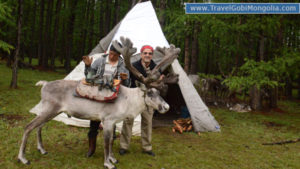 Mongols are historically a nomadic people, and thus many of their cultural symbols reflect nomadic life. The horse is probably the most central part of Mongolian culture. Mongols love horses, riding them for transportation in the villages, using them for farming, racing them for fun, and eating them for celebrations. Many Mongols own horses and keep pictures of them in their houses or offices. Our excellent horseback-riding program is tailored to your experience level from the beginner to the intermediate and advanced.
Day18. Fly to UB
breakfast time → drive to Mörön town /155 km/ → lunch time → fly to Ulaanbaatar city /1.3 hours/ → transferred to your accommodation → end
Our Booking is easy & complete in below 4 steps.
Step1: 
 Please carefully read our Contract Of Private Package Tour. Cancellation & other condition will be follow this contract.
Step2: 
 Send us your Booking Form (Only one of the group member's Booking Form is fine. No need to send us all member's booking forms)
Step3: 
 You will be received an Voucher & Invoice from us via email.
Step4: 
 Select payment method and pay the Payment.
Above prices are changeable by changing components (kind of services) of the itinerary.
This is a private tour and you or your travel buddies will be in the tour.
Domestic flight companies accept only 10kg-15kg lugguge incuding your carry on bags too for free transfer.
It is your responsibility to ensure you are in correct pick up location at correct time as stated on your booking form.
No smoking in travel vehicles or aircraft.
How long have you been in business?
We have been providing high-quality sightseeing travel  at low prices for over 10 years. Read our customer Testimonials. You can also see ratings and reviews of our tours from real travelers on the tour/activity details page. more Customers' FAQs
Please let us know should you have further inquiries! We are looking forward to assist you with organizing your stay in Mongolia and answering any questions you might have about this tour. We want your holiday experience in Mongolia to be as amazing as it is possible.