This east Mongolian tour enebles you to do many things.
– Try fishing at small beautiful Buir Lake
Length: 9 days
Type: Private Package Tour
Area: Eastern Mongolia
Potential date and weather condition: from April to October, each year.
Difficulty: easier – moderate (No experience necessary. Trips suitable for most ages and abilities)
Distance: driving:
By days: 
Day1. Choibalsan town
Day2. Buir Lake
Day3. Ikh Burkhant Monument
Day4. Numrug National Park
Day5. Dornod Mongol National Park
Day6. Lkhachinvandad National Park
Day7. Altan Ovoo Mountain
Day8. Khamar Monastery
Day9. Back to UB
Please carefully check what is include and what is not include in the prices!
1900 USD for 1pax
1400 USD p.p for 2pax
1250 USD p.p for 3pax
1130 USD p.p for 4pax
1060 USD p.p for 5pax
1020 USD p.p for 6pax

Single supplement:

 160 usd


Included:

 2 nights in tourist ger camp, 1 nights in local hotel, 5 nights in tent, food service, land transportation, English speaking guide service, mineral water, all entrance fees and Government charges, all activities costs, domestic flight drop off


Not included:

 one way domestic flight, gratuities for staffs, personal expenses, travel insurance
Child policy: 0 – 3 years old baby free of charge, 4 – 12 years old child: 30% discount (counted as 1pax)
Group policy: Up from 6pax please see our Group Service
Discount policy: We always try to lower the our service prices by looking better solution for our customers. Here is several Discounts you can save until 10% that we can do on our best for our customers.
| | |
| --- | --- |
|  ? | Why domestic flight not included? The rate of the flight tickets is not constant, very changeable & will depends by many reasons such us when to buy etc. But we are able to book the tickets for you in their contract price without any charge or you directly to book by youself. There is 2 companies running in the business Aero Mongolia & Hunnu Air. You can google & book the tickets online. more other Customers' FAQs |
Day1. Fly to Choibalsan town
We will pick you up from your accommodation and transfer you to the airport. After you landed in Choibalsan, our guide and driver will pick you up. After lunch time, we will visit to local museum of the town and then visit to local food market. Overnight in the local hotel.
Day2. Buir Lake – fishing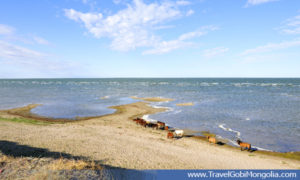 After breakfast time, we will drive to Buir Lake (300 km). We will drive on the Menen Steppe which is over 100 km long. On this flat steppe we drive fast and it's exhilarating. Buir Lake is biggest lake in Eastern Mongolia and fresh watered. It is 40 km long and 21 km wide. It is Steppe Lake that is why bottom is flat and not exceed 10 m. It is home of the fish and fishers' paradise. We will do boating on the lake and try to catch fish. The lake has sandy ring beach and If you like you can swim in the lake also. Overnight in the tourist ger camp.
Day3. Ikh Burkhant – giant Buddha image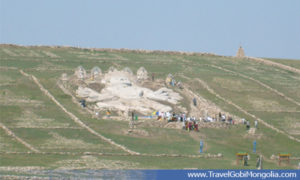 After breakfast time, we will drive to Ikh Burkhant Monument (70 km). It is a giant Janraisag, a deity of Buddhism, image which was carved in hillside facing to south direction.  Local noble man Togtokh Bat-Ochir Togtokh or To Van initiated it and construction of the carving was continued 1859 – 1864. It is 30 m long. There are over 20 seating deities were placed around the main image and protecting the eternal wheels and eerie shattered stone faces scattered about. If you walk up to its head, you'll see a couple entwined in an eternal stone embrace. Overnight in the tent.
Day4. Numrug National Park.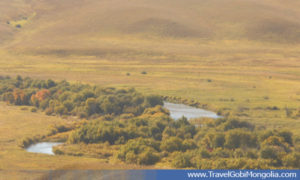 Today we will drive to Numrug National Park (180 km). On the way we will see the monuments of the Battles of Khalkhyn Gol including Russian hero M.P.Yakovlev memorial monument, Victory Monument and 90 Heroes Monuments etc. The Battles of Khalkhyn Gol (sometimes called as Nomonhan Incident) constituted the decisive engagement of the undeclared Soviet–Japanese border conflicts fought among the Soviet Union, Mongolia and the Empire of Japan in 1939. After we pass the Khalkh gol sub-provincial center, we will see Human Stone of Shonkh Hill. It was created in 13th century and belong to Chinggis Khaan's era. After arrive in Numrug National Park, we will go to 3 Rivers joint we will start Hike and observe wild life. Fishing is allowed. Numrug is known for its abundant and pristine wilderness, and wildlife viewing is a must when visiting. Nowhere else can you observe tens of different species of animals including Usurian moose, wild boars, wolves, species of antelopes and birds in their natural habitat of the Manchurian flora and fauna ecologically distinct from rest of Mongolia. Overnight in the tent.
Day5. Dornod Mongol National Park
Today we will drive to Dornod Mongol National Park. Sometimes it is called Mongolian Serengeti. Overnight in tent.
Day6. Lkhachinvandad National Park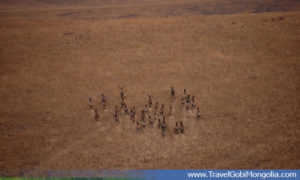 Today we will drive to Lkhachinvandad Mountain. It is located very near to the Mongolian border. Eguzer Khutagt Galsandash first time pet about 30 deer in the Lkhachinvandad Mountain in 1886 and the number increased about 100 heads they released in the Mountain in 1915. After we reach there we will start hiking and searching deer. It was officially was proclaimed as Natural Reserve in 1965 and purpose of the Reserve is preserve and protect deer habitat in steppe. It covers 58000 hectares area around Lhachinvandad Mountain (1233m). Overnight in the tent.
Day7. Altan Ovoo Extinct Volcano and Shiliin Bogd Holy Mountain.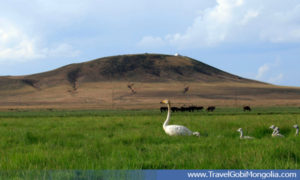 After breakfast, we will drive to Altan Ovoo Shiliin Bogd region. First we will visit to Shiliin Bogd Mountain which is famous destination for Mongolian people. There we will see Tal Cave, Shiliin Bogd Mountain and Altan Ovoo. Also, we will go to Ganga Lake for seeing birds. Overnight in the tent.
Day8. World Energy Center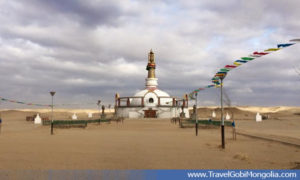 After breakfast time, we will drive to Khamar Monastery. The monastery was established by educator, poet and noble monk Danzanravjaa in 1820. He chose the site of the monastery believing the surrounding area radiated with a spiritual energy fostered by the Gobi desert. But the monastery was completely destroyed by communist purges in 1937. Rebuilding efforts still continued from 1992 and got large success. Current series of monasteries was built in recent years.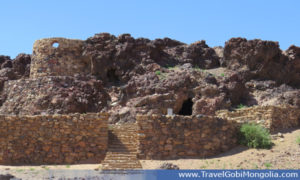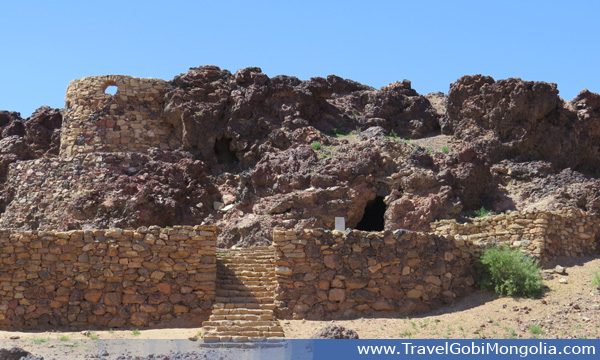 Mongolians believe that the site is energy center and often visit there for taking energy from the ground. There, we will see 108 Caves, real dinosaur skeleton on the ground and petrified threes of Jurassic Period respectively. Also, we will hike around and enjoy small sand dunes. Before we head to the tourist ger camp, we will drive to Khusliin Khar Mountain.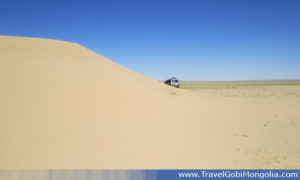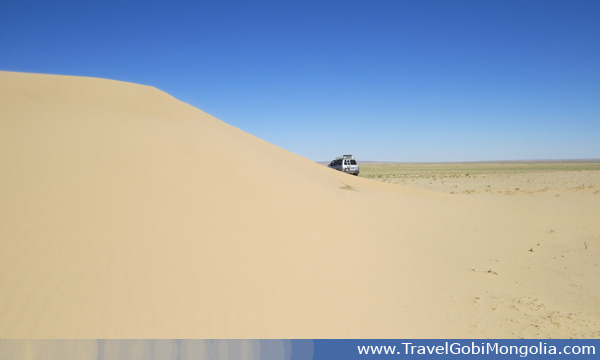 Climb up there and see panoramic view. Overnight there.
Day9. UB
We head back to Ulaanbaatar (450 km) via Choir town which is a larger logistic town in Gobi. After we arrive in UB, you will be transferred to your hotel. End of the trip.
Our Booking is easy & complete in below 4 steps.
Step1: 
 Please carefully read our Contract Of Private Package Tour. Cancellation & other condition will be follow this contract.
Step2: 
 Send us your Booking Form (Only one of the group member's Booking Form is fine. No need to send us all member's booking forms)
Step3: 
 You will be received an Voucher & Invoice from us via email.
Step4: 
 Select payment method and pay the Payment.
Above prices are changeable by changing components (kind of services) of the itinerary.
This is a private tour and you or your travel buddies will be in the tour.
Domestic flight companies accept only 10kg-15kg lugguge incuding your carry on bags too for free transfer.
It is your responsibility to ensure you are in correct pick up location at correct time as stated on your booking form.
No smoking in travel vehicles or aircraft.
How long have you been in business?
We have been providing high-quality sightseeing travel  at low prices for over 10 years. Read our customer Testimonials. You can also see ratings and reviews of our tours from real travelers on the tour/activity details page. more Customers' FAQs
Please let us know should you have further inquiries! We are looking forward to assist you with organizing your stay in Mongolia and answering any questions you might have about this tour. We want your holiday experience in Mongolia to be as amazing as it is possible.