Sain baina uu? (Meaning Hello) Greeting from Mongolia, Ulaanbaatar. We are a smaller, flexible and highly experienced team, confident in arranging the most demanding land arrangements, offering very competitive pricing and consistently high levels of service.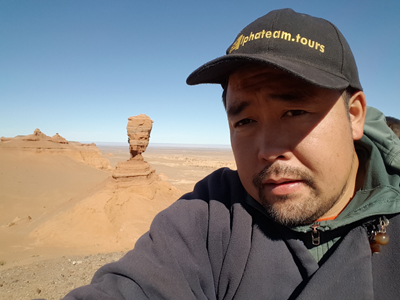 Ganzorig Tsogtoo – Owner & sales manager.
I graduated Mongolian Teacher's State University as Tour Manager & Teacher for Geography in 2002. Then I had been doing the tour guide another 3 years. I established this travel company with my 2 other friends in 2005.  When I was in high school , I won several medallion from Geography Olympiad of different level and most successful one is silver medallion from State Olympiad of Geography in 1998. My Facebook is https://www.facebook.com/ganzorig.tsogtoo I was in all part of Mongolia. Here is my Pictures in various part of Mongolia. So you no need to worry about my experience. I was born in North Mongolia, Mörön town. Now I am 36 years old. I  married and have 2 children. You can reach to me via Wechat, Viber & WhatsApp by my mobile phone number +976 99811918.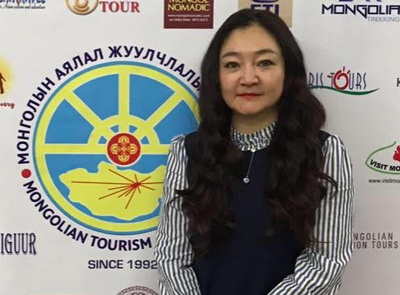 Odbayar Erdenbaatar – Tour manager & accountant.
Her profession was teacher of Japanese language but she never work this field. She like to travel and when she was working in a tourist camp at Khorgo-Terkh National Park, she met with Ganzo and then decided to joined to the TGM team and working with us. Later, in 2012, she graduated Accountant class of Magic Choice school and became accountant of the company. Odnoo (short name) usually charge bookings flight tickets, tourist camp and hotel etc. Married and has 2 children. She was born in Ulaanbaatar.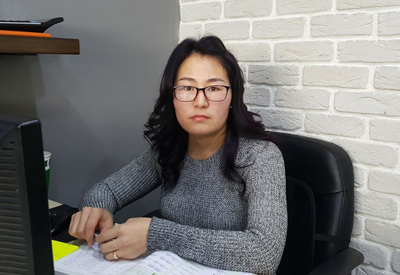 Bolor Enkhtaivan – Office manager
She joined to the company in 2014. She charge all pick up & drop off services in Ulaanbaatar city. Everyday she wake up early morning for transfer the customers to the airport from their hotel or transfer them to the bus station. She also responsible all visa issues. Some customers need invitation letter & she organizes the letters & apply them to the officials.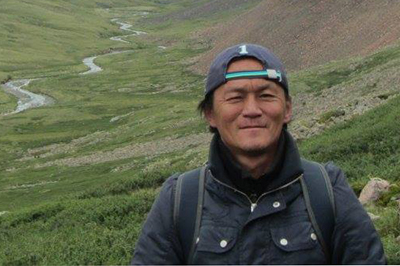 Gan-Erdene Yolchinsenge – adviser and tour guide, driver.
He is one of the pioneers guide and staff in Mongolian tourism sector. He joined in our team from 2011. When the company received a group bikers from Singapore, Ganzo needs a biking experienced tour guide and he found him by advise of one of the his friend. Then Ganzo and Gana started their friendship and traveled together and do together. Gana is most experienced tour guide and manager in Mongolia and he have been working in several well known tour companies. Gana has a reliable Toyota Land Cruiser. I think that he could not be without traveling in Mongolia. He is natural lover.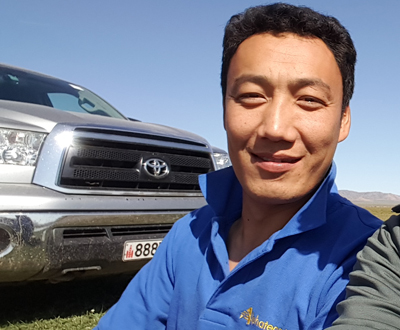 Bayaraa – head of driver team
He joined to the team from 2016. He is a experienced driver & got a Mitsubishi Delica off-road van. He is fun. But Ganzo thinks he talks too much.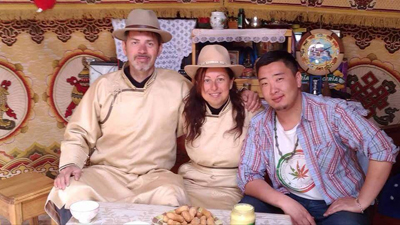 Khasaa – head of guide team
My name is Khasaa i have been working as a tour guide since 2014. This is a blessing that i was born and raise in this beautiful country. So i am proudly introducing Mongolian tradition , history and nomadic lifestyle in real experience. So just lets explore all together and i will be with you in every step you take.
Boldoo – manager & driver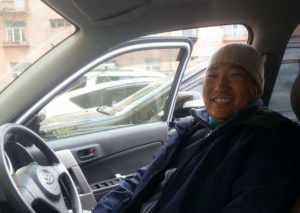 He joined to the team 2013. He was in Japan 10 years & decided to move to Mongolia. His car always clean. He drives so carefully. He usually go to the trips to Karakorum & Central Mongolian parts, tours around Ulaanbaatar. He always go to Gorkhi-Terelj National Park & Khustai National Parks. He got nice Japanese wagon car.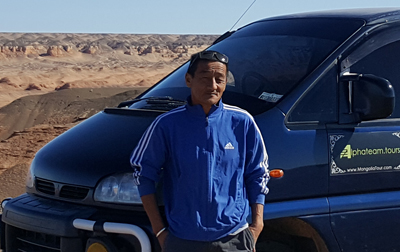 Batka – manager & driver in Gobi
He joined to the team in 2011. Since that time he proved his loyalty. He is very very experienced driver. He got a nice Mitsubishi Delica Off-road van. If you go to Gobi Desert you will meet with him & will understand how he is reliable guy. He charge all tours of TGM to Gobi Desert. He lives in Dalanzadgad.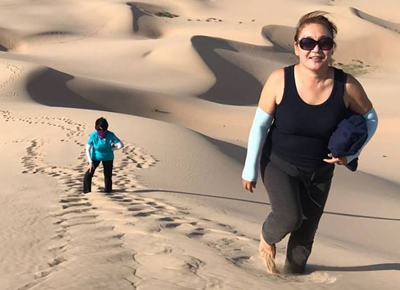 Altaa – manager & English speaking guide in Gobi
She joined to the team from 2013. She lives in Dalanzadgad. She is English speaking tour guide. In summer she is super busy & work hard. He is open minded person & being always happy. If you go to Gobi Desert you will meet with her there.
Zaya – Field cook
Zaya is relative of Odnoo and she just recently joined to our team. The company organized various field outdoor trips specially to go Gobi desert deep part and food service is very important. Sometimes keeping food stuffs in Gobi hot air and it requires some skills of our cooks. Also, deep part of Khentii mountain Zaya went with our customers and serves very nice meals. We always receives good or best mark in food service questionnaire on our Customer Comment Page.
Brilliant drivers
Mongolia is 19th biggest country in the World & it is vast. Transportation is lower developed in here. There is only one Trans Mongolian railway & old or new paved roads to provincial centers. Rest of the area is just dirt road & traveling in Mongolia means almost full of off road riding. So you will need strong off road car & experienced drivers. Our drivers are truly experienced guys. In our history, car break happened only 1 or 2 times. So we proud our drivers.

Guides
TGM has our own guide trainee program. In every year we organizes over 200 tours. During the Naadam Festival, many tours start same time. So we need many tour guides or leaders. I hope that they are experienced and helpful staffs. Sometimes we receive some complain about our service we we try to solve them as soon as possible. There is so many pictures of them & here is just few of them.

I look forward that this brief information of our team gives you some information and hear you soon.