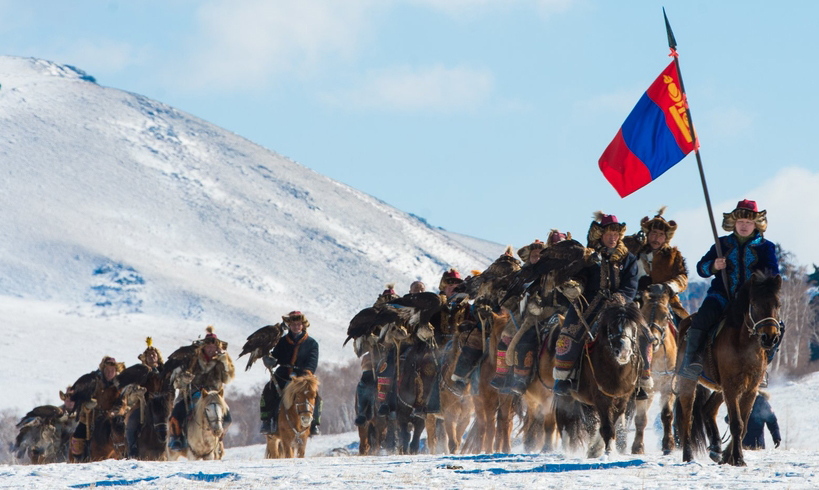 Most spectacular customs of the Kazakh people in Western Mongolia is hunting with eagles that are specially trained has been practiced in Central Asia for a thousands of years. Almost 80% of the Eagle Hunters in the world lives in Western part of Mongolia. In every year just after the lunar new year celebration, golden eagle hunters come from Western Mongolia to celebrate the fascinating.  The number of foreign and domestic visitor has been increasing for years and is held twice a year-spring and autumn season in Mongolia. TGM invite you to this spring festival.  Prizes are awarded for speed, agility and accuracy, as well as for the best traditional Kazakh dress, and more. Learn from the ancient tradition and hold golden eagle on your hand.
– Witness with thousand year old ancient tradition 
Length: 2 days
Area: Around Ulaanbaatar
Type: Group Scheduled Tours
Date: 04 Mar – 05 March
Difficulty: easier – moderate (No experience necessary. Trips suitable for most ages and abilities)
Distance: driving: 20 km
Group size: min 4pax – max 12pax
Personal Departure: this tour is not possible for personal departure.
Please carefully check what is include and what is not include in the prices!
400 usd for 1pax
350 usd p.p for 2pax
Included: 1 night in the tourist ger camp, food service written in the itinerary, land transportation, English speaking guide service, mineral water, all entrance fees and Government charges, all activities costs
Not included: gratuities for staffs, personal expenses, travel insurance
Child policy: 0 – 3 years old baby free of charge
4 – 12 years old child 30% discount (counted as 1pax)
Group policy: Up from 6pax please see our Group Service. Get better rate.
Discount policy: We always try to lower the our service prices by looking better solution for our customers. Here is several Discount Policy you can save until 10% that we can do on our best for our customers.
04 Mar. Eagle Festival.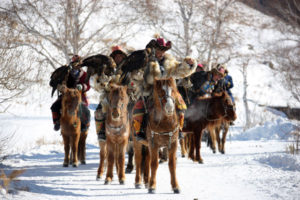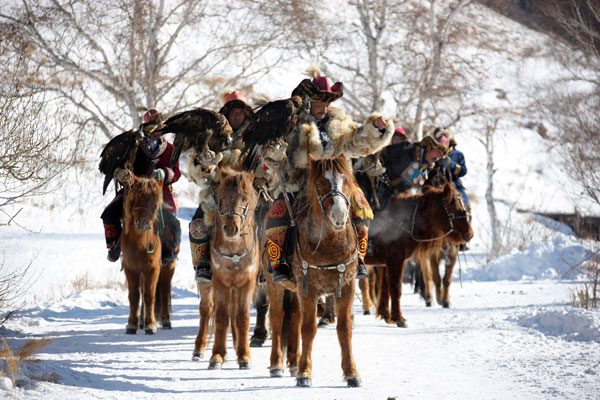 We will pick you up from your accommodation & drive to Chingisiin Khuree tourist ger camp. Today you will enjoy full day in the event. Today, opening ceremony and introduction will be started from 10.00 AM and told narration about eagle hunting tradition and history. Then traditional dress show will be held  on the scene and Kazakh hunters display their home made traditional outfits.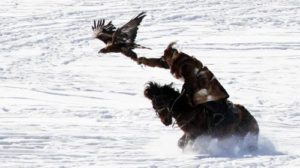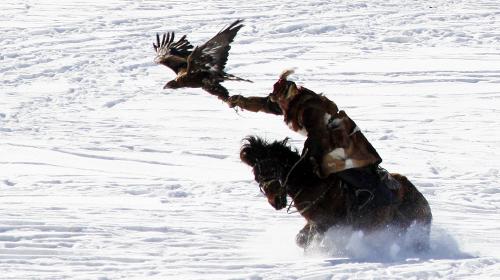 Before lunch time, the show will continued by Eagle Call competition that tests hunter's ability to 'call' Eagle to their horse from a distance. After lunch time, next event will be emerged on the scene. It is competition for fox skin. It is the real test of a hunter's ability, Eagles must catch a fox skin dragged behind their trainer's horse. After breakfast, you will see Kazakh people's some tradition games with horses.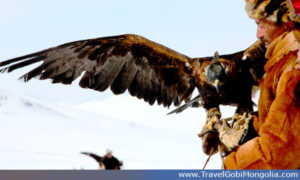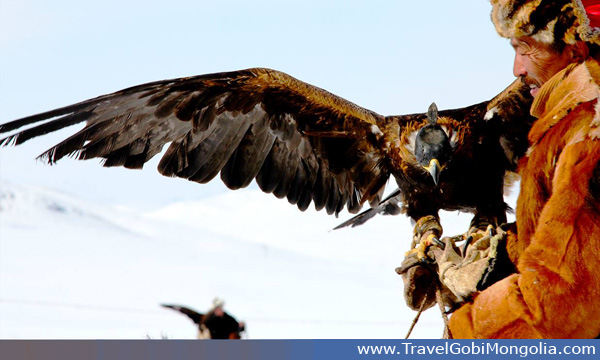 These are: Bushkashi – Tug of war played on horseback with goat skin, common throughout Central Asia Kyz Kuar – A race between a man and woman on horseback Tiyn Teru – Riders compete to pick up coins from the ground during the race. Also, simple horse race Lunch time.  Feast dinner and awards ceremony. Then we will drive to Gorkhi-Terelj National Park. Overnight there in the tourist ger camp. /L,D/
05 Mar. Gorkhi-Terelj National Park Tour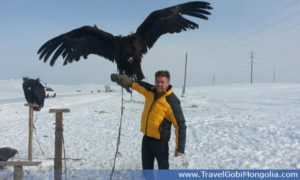 After breakfast time, we will drive to Tsonjin Boldog Resort (55 km). 40 m high Genghis Khan's Horse Statue is believed to be highest equestrian statue in the World. There's an elevator to observation desk on the top of the horse head. Also, there is 2 museums,  Military Armaments of Huns and Great Mongolian State. Then we will drive to Gorkhi-Terelj National Park (40 km).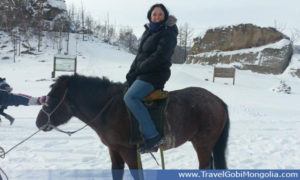 Situated 70 km northeast of Ulaanbaatar, Gorkhi-Terelj National Park is famous for its unique granite rock formations and pristine alpine scenery, and is a popular destination for tourists based in the capital and for Mongolians on weekend trips. It offers great opportunities for hiking, horse-riding, rafting and rock climbing. A 2 of hours is all you will need to enjoy the most breathe-taking views that no other horse stable in the Gorkhi river area can offer you! Nature lovers, horse lovers, young people or not so young, this trip is for everyone! This ride will take you back through the Turtle  Rock area to the beautiful sites and sounds of mother nature for a several mile journey up the mountain to view. With no experience required.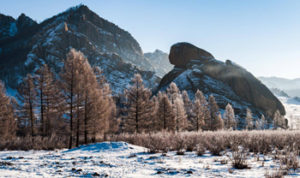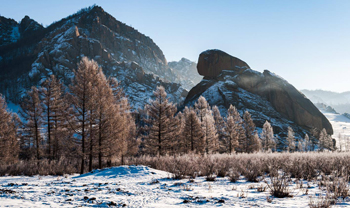 Then we will make short hike to picturesque lovely meditation Ariyabal Temple which is surrounded by scenic and rocky mountains and sits at middle of the them. Monks performs meditation ritual for many years amongst beautiful and tranquil mountains. It is not old temple. To get to the top, you would cross the suspension bridge and climb up on 108 stairs, according to Buddhist prayer beads. In the afternoon, you will have time to relax and enjoy the natural surroundings. In the evening we will drive back to Ulaanbaatar city (60 km) and you will transferred to your accommodation. /B,L/
Our Booking is easy & complete in below 4 steps.
Step1: 
 Please carefully read our Contract Of Private Package Tour. Cancellation & other condition will be follow this contract.
Step2: 
 Send us your Booking Form (Only one of the group member's Booking Form is fine. No need to send us all member's booking forms)
Step3: 
 You will be received an Voucher & Invoice from us via email.
Step4: 
 Select payment method and pay the Payment.
Above prices are changeable by changing components (kind of services) of the itinerary.
This is a private tour and you or your travel buddies will be in the tour.
Domestic flight companies accept only 10kg-15kg lugguge incuding your carry on bags too for free transfer.
It is your responsibility to ensure you are in correct pick up location at correct time as stated on your booking form.
No smoking in travel vehicles or aircraft.
How long have you been in business?
We have been providing high-quality sightseeing travel  at low prices for over 10 years. Read our customer Testimonials. You can also see ratings and reviews of our tours from real travelers on the tour/activity details page. more Customers' FAQs
What is Golden Eagle Hunting?
Khazahk nation's Golden eagle hunting is one of the oldest ways of food hunting. Our ancestors in Eurasian steppes mastered eagle hunting several thousand years ago, in the Andronov age. A proof of this fact is Bronze Age petroglyphs. Hunting with birds and hounds has always been considered an art. The actual course of hunting, graceful movements of animals, emotions and passions of the hunters made it a festival. A steppe hunter derived great pleasure from the tandem of a dog and a hunting bird.
Eagle hunting was mainly practiced only in the western regions of Mongolia. Each bird was intended to hunt a particular type of animals. Apart from foxes, golden eagles usually catch corsacs and hares. Strong, rapacious, well-trained eagles proved good for hunting hoofed animals and even wolves. Hawks are used for geese and bustards. Sparrow-hawks are as a rule used for hunting hares while goshawks are used for quails. Falcons and marlins proved to be excellent for hunting smaller birds. In the past, hunting birds were extremely expensive: a good golden eagle could cost 5-6 camels and a falcon cost 1-2 camels.
Eagle hunting season starts with first night frosts and continues from November through February. This schedule was set in olden days because furry animals have the best fur in winter. Falcon and Merlin hunting starts in late September when birds are preparing for migration and lasts until the first snow falls.
As a result of several centuries of selection, people of the region developed a special breed of hounds. Its distinguishing features are an outstanding ability to chase a prey, sharp-sightedness, and speed. Mostly, tazy are used to hunt hares, badgers, marmots, foxes and wolves without guns. Tazy are beautiful, graceful and elegant dogs with a sense of dignity. Tazy can be translated as "clean". Kazakhs of the past maintained a special treatment for these dogs: tazy was designated a special place in a yurt covered with a warm soft cloth and a special felt sack was taken for each hunting to keep the dog warm during hunting. As a legend talks, an excellent tazy was accepted as bride-money estimated at 47 horses.
Hunting with Golden Eagle is one of the most unique features of the Kazakh life. The hunter is named kusbegi or berkutchi. The experience of wild birds training was gained by Kazakh kusbegi by centuries, the secrets were impacted from the father to the son and kept deep secret. At the present time we can meet few people with such name. These masters have innate gift of wild birds training. For hunting they tame falcons, golden eagles and eagles. Names of birds are given depending on their appearance and battle characteristics. The hunting with Golden Eagle are during ten centuries.
Please let us know should you have further inquiries! We are looking forward to assist you with organizing your stay in Mongolia and answering any questions you might have about this tour. We want your holiday experience in Mongolia to be as amazing as it is possible.