Did you know that the Gobi is the coldest desert in the world? You might be surprised then to learn that it snows in some deserts. Gobi Camels Festival is held from 06-08 March in every year in Umnugobi province and it is one of the Mongolian largest festival and apart from buying and selling of livestock it has become an important tourist attraction and its highlights have become competitions such as the "Camel polo", "Beautiful couple contest" and "Camel rice" are the main draws for this event which attracts tens of tourists. For visitors it's a once-in-a-lifetime opportunity to witness the color, spectacle and carnival of one of the last great traditional melas, which brings livestock, farmers, traders and villagers from all over Gobi. We believe that every aspect of such an experience should be special. TGM allow you to see the event in reasonable price in our guaranteed secured places. Lets to there.
– Winter magnificent event
– Dinosaur site Bayanzag already listed
– Camel ride included
Length: 4 days
Area: Gobi Desert
Type: group scheduled tour
Potential date and weather condition: 05 March – 08 March, each year.
Difficulty: easier – moderate (No experience necessary. Trips suitable for most ages and abilities)
Distance: driving: 1500 km
Please carefully check what is include and what is not include in the prices!
1100 usd for 1pax
800 usd p.p for 2pax
700 usd p.p for 3pax
600 usd p.p for 4pax
Included: 3 nights in the local ger camp, food service, land transportation, English speaking guide service, mineral water, all entrance fees and Government charges, all activities costs
Not included: gratuities for staffs, personal expenses, travel insurance
Child policy: 0 – 3 years old baby free of charge
4 – 12 years old child 30% discount (counted as 1pax)
Group policy: Up from 6pax please see our Group Service. Get better rate.
Discount policy: We always try to lower the our service prices by looking better solution for our customers. Here is several Discount Policy you can save until 10% that we can do on our best for our customers.
Day1. 05 March. Ride to to Gobi Desert
We will have a ride to to the center of the Umnugobi province, Dalanzadgad. The ride takes 8 hours. Visit to local museum and market included. Then we will drive to the site of camel festival will be held. Overnight there.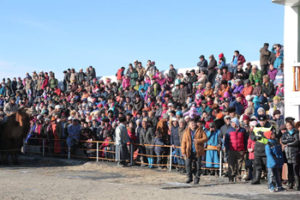 Day2. 06 March. First Camel Festival Day and Bayanzag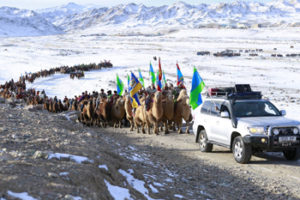 Today we will visit to main site of the festival and participate opening ceremony and then see camel polo tournaments and even in a camel "beauty contest" where owners display the finest saddles and rigging for their camels competitions are held.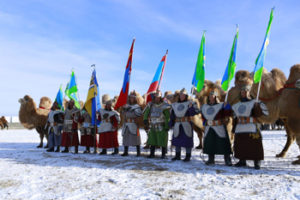 After the lunch time, we will drive to the place is known as Flaming Cliffs so names by Roy Chapman Andrews American explorer and place is treasure over 70 million years history of ancient dinosaur's world of Mongolia and where the chest of is fossilized dinosaur bones and eggs.
Day3. 07 March. Second Camel Festival Day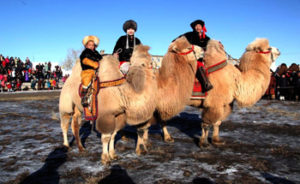 After breakfast, we will drive again to see second day activities of the festival. A camel racing competition with 2 different ages starts off the festival, with music, songs to follow. The first three camels in the each group are awarded with gold, silver and bronze medals. Between these events, the most waited for is the competition of group of camel herder guys who show how to catching, taming, training and finally loading a camel with an actual ger.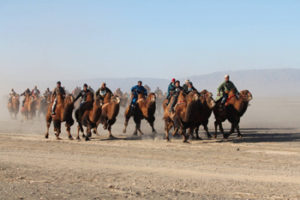 After lunch time, our guide will arrange you ride camels in winter season of Gobi and along beautiful scene of the Gurvan Saikhan National Park. Visit to camel herder family is also included in the itinerary and you will see how to live the nomadic people in harsh winter time. The closing ceremony takes place late in the afternoon when the winners will be presented with their trophies.
Day4. 08 March. Drive to Dalanzadgad and catch bus to Ulaanbaatar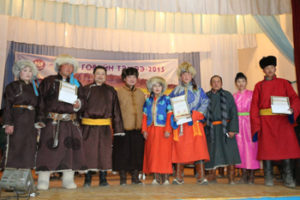 Today you will back to your urban life. After breakfast time, we will drive back to Dalanzadgad town for going back to Ulaanbaatar city. After you arrive in Ulaanbaatar we will pick you up and transfer to your hotel.
Our Booking is easy & complete in below 4 steps.
Step1: 
 Please carefully read our Contract Of Private Package Tour. Cancellation & other condition will be follow this contract.
Step2: 
 Send us your Booking Form (Only one of the group member's Booking Form is fine. No need to send us all member's booking forms)
Step3: 
 You will be received an Voucher & Invoice from us via email.
Step4: 
 Select payment method and pay the Payment.
Above prices are changeable by changing components (kind of services) of the itinerary.
This is a private tour and you or your travel buddies will be in the tour.
Domestic flight companies accept only 10kg-15kg lugguge incuding your carry on bags too for free transfer.
It is your responsibility to ensure you are in correct pick up location at correct time as stated on your booking form.
No smoking in travel vehicles or aircraft.
How long have you been in business?
We have been providing high-quality sightseeing travel  at low prices for over 10 years. Read our customer Testimonials. You can also see ratings and reviews of our tours from real travelers on the tour/activity details page. more Customers' FAQs
Please let us know should you have further inquiries! We are looking forward to assist you with organizing your stay in Mongolia and answering any questions you might have about this tour. We want your holiday experience in Mongolia to be as amazing as it is possible.