In March for just a week the trails leading to Khuvsgul Lake becomes crowded with tens of tourists. Khuvsgul Lake is located in North Mongolia under the direct influence of the cold winter wind from Siberia. The average temperature in -25 degrees Celsius in winter. Annual low temperatures below -35C are not uncommon. The pure waters freeze completely over in the winter time to create clear ice with up to meters of visibility of ground rocks. The festival will provide opportunities for Lake Khuvsgul visitors to enjoy winter sports and outdoor activities including downhill and cross-country skiing, ice-fishing contests etc.
– Festival of Ice at -35°C on the Khovsgol Lake
– Reindeer people takes part of the event
– Experience on horse sleighs
Length: 4 days
Area: North Mongolia
Type: group scheduled tour
Potential date and weather condition: 01 March – 04 March, each year.
Difficulty: easier – moderate (No experience necessary. Trips suitable for most ages and abilities)
Distance: driving: 300 km, flight 3 hours for RT
Please carefully check what is include and what is not include in the prices!
1100 usd for 1pax
800 usd p.p for 2pax
700 usd p.p for 3pax
600 usd p.p for 4pax
Included: lunch, land transportation, English speaking guide service, mineral water, all entrance fees and Government charges, all activities costs
Not included: gratuities for staffs, personal expenses, travel insurance
Child policy: 0 – 3 years old baby free of charge
4 – 12 years old child 30% discount (counted as 1pax)
Group policy: Up from 6pax please see our Group Service. Get better rate.
Discount policy: We always try to lower the our service prices by looking better solution for our customers. Here is several Discount Policy you can save until 10% that we can do on our best for our customers.
Day1. 01 March. Fly to Murun and drive to Huvsgul Lake National park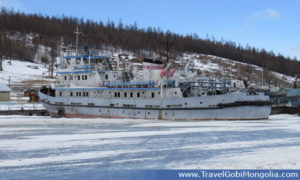 We will have flight to the center of the Khuvsgul province, Murun. The flight takes one and a half hours, and after landed in local airstrip, our guide and driver will pick you up and will visit to the town for a short time. Visit to local museum and market included. Then we will drive to World's biggest Deer Stone Site at Uushig Valley.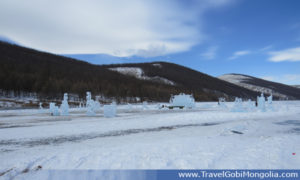 Dating back over 3000 years, the site belong to Huns period. Then we will drive to Khatgal village on the paved road which is located in southern most part of the Lake. After we arrive at Khatgal village, we will have free time.
Day2. 02 March. First Ice Festival Day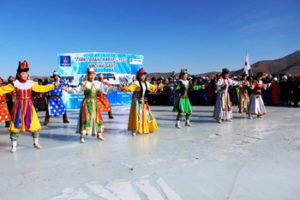 Today we will visit to main site of the festival and participate opening ceremony. Then we will see or participate (of course, if you like) some different types of the competition such as ice sculpture competition, sumo wrestling, ankle bone archery on the clear ice.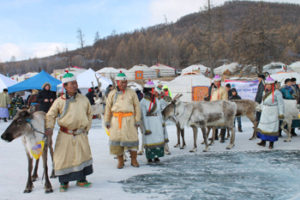 There is also a shamanism ritual worshiping ceremony which offers visitors a fascinating glimpse into the Tsaatan people's way of life and the shaman culture and National Folklore concert etc. The sled sliding on the ice, punctuated by the trotting horses, and the tinkling of bells attached to the harness in the incredible universe of frozen waves is one of the highlights of this trip (this activity is included in the price).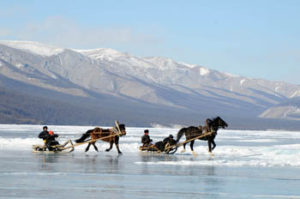 Reindeer people bring their reindeer to the festival site and we will also interest it.
Day3. 03 March. Second Ice Festival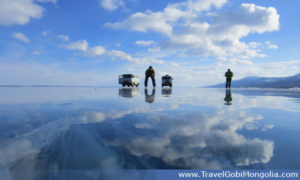 Today we will also see rest competition of the event. Horse sledding competition is must see. After lunch time, our guide will arrange you ride horses in winter season of north Mongolia and along beautiful scene of the Lake. Unforgettable horseback riding will continue until you want to stop it and warm ger.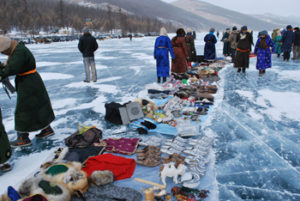 Visit to nomadic family is also included in the itinerary and you will see how to live the nomadic people in harsh winter time. Then we will participate closing ceremony of the festival and enjoy bonfire work.
Day4. 04 March. Drive to Murun and fly back to Ulaanbaatar
Today you will back to your urban life. After breakfast time, we will drive back to Murun town for flying to Ulaanbaatar city. After you arrive in Ulaanbaatar we will pick you up and transfer to your hotel.
Our Booking is easy & complete in below 4 steps.
Step1: 
 Please carefully read our Contract Of Private Package Tour. Cancellation & other condition will be follow this contract.
Step2: 
 Send us your Booking Form (Only one of the group member's Booking Form is fine. No need to send us all member's booking forms)
Step3: 
 You will be received an Voucher & Invoice from us via email.
Step4: 
 Select payment method and pay the Payment.
Above prices are changeable by changing components (kind of services) of the itinerary.
This is a private tour and you or your travel buddies will be in the tour.
Domestic flight companies accept only 10kg-15kg lugguge incuding your carry on bags too for free transfer.
It is your responsibility to ensure you are in correct pick up location at correct time as stated on your booking form.
No smoking in travel vehicles or aircraft.
How long have you been in business?
We have been providing high-quality sightseeing travel  at low prices for over 10 years. Read our customer Testimonials. You can also see ratings and reviews of our tours from real travelers on the tour/activity details page. more Customers' FAQs
Please let us know should you have further inquiries! We are looking forward to assist you with organizing your stay in Mongolia and answering any questions you might have about this tour. We want your holiday experience in Mongolia to be as amazing as it is possible.
| | |
| --- | --- |
|  ! | Khuvsgul can be as cold as -25°C at night in Feb. Thermal protection is essential, especially for feet, fingers and face. Also, UV protecting sunglasses are required for eye protection. The ice of the lake is min. 2m thick and can hold a car or even a large lorry easily. Horse racing competition  |