You will see winter life of Mongolia & Central Mongolian best highlight – Karakorum, Elsen Tasarkhai Sands with Khustai National Park and driving distance of this tour is not more than 5 hours in a day. All drives of this tour is on the paved road. You will stay in the ger (yurt) in the Khustai National Park, the temperature is minus 37 or lower. It is beautiful, you need to keep the wood burner stoked inside but it is so warm almost too warm at times. The ger is warm inside, with a wood furnace, beds and most other conveniences you'd find in a typical western house. Sleep in a gir and watch the 100000000 stars.
– Including Elsen Tasarkhai Sands
– Discover Erdene Zuu, built from the rubble of Genghis Khan's capital
– Meet wild horse in their natural habitat – learn about Takhi, wild horse, and other wildlife
– Visit the home of a nomadic family in the Khustai National Park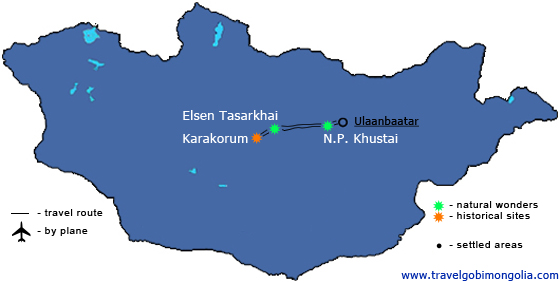 Length: 4 days
Area: Central Mongolia
Type: private package tour
Potential dates and weather condition: from Nov to Mar in each year.
Difficulty: easy – moderate (No experience necessary. Trips suitable for most ages and abilities)
Distance: 790 km
By days:
Day1. Elsen Tasarkhai Sands
Day2. Karakorum
Day3. Khustai National Park
Day4. Back to UB
Please carefully check what is include and what is not include in the prices!
800 usd for 1pax
600 usd p.p for 2pax
400 usd p.p for 3pax
Included: 3 nights in Local Ger Guesthouse, land transportation, English speaking guide service, all entrance fees and Government charges, all activities costs, sleeping bag
Not included: food service, gratuities for staffs, personal expenses (extra some drinks, souvenir buying, locals concerts etc), travel insurance
Child policy: 0 – 3 years old baby free of charge
4 – 12 years old child 30% discount (counted as 1pax)
Group policy: Up from 6pax please see our Group Service. Get better rate.
Discount policy: We always try to lower the our service prices by looking better solution for our customers. Here is several Discount Policy you can save until 10% that we can do on our best for our customers.
| | |
| --- | --- |
|  ? | Why food service not included in the Budget Arrangement? You can buy meals from local ger guesthouses by paying only 2 or 3 usd per meal. There is plenty of food shops on the way when you are touring. You can carry your own food from UB. It is nice you eat our own breakfast and then buy meals for lunch and dinner. Meals will be basic and usually cooked Mongolian traditional or Russian styled foods. Or you can get basic free kitchen belonings from us and cook yourself. more other Customers' FAQs |
Day1. Elsen Tasarkhai Sands- camel riding
We will pick you up from your accommodation and drive to Elsen Tasarkhai Sands (280 km). Its English meaning is Piece of Sand and considered the northern edge of the Gobi desert. It is small sand dunes, continuously lies in the lowland of legendary Khugnu Khaan and Bat Khaan Mountains. After lunch time, we will ride camels here. The two-humped camels are very comfortable to ride, as they walk slowly and gently and we will be well supported by the humps, sitting comfortably between them. Overnight in the local ger guesthouse.
Day2. Karakorum- capital of Genghis Khan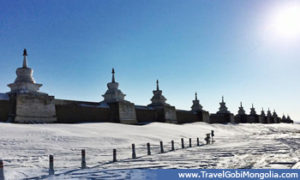 After breakfast time, we will drive to Karakorum (95 km). Karakorum, the capital of Great Mongolian State where today there is a small local township. In the history, the city of Karakorum was founded in 1220 in Orkhon River Valley by order of Genghis Khan and after collapsing of Yuan dynasty of Khuvilai Khan Min state's invaders sacked the city and massacred its inhabitants in 1388 and ruined it.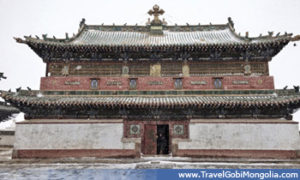 After 200 years, Erdene Zuu, built in 1586, is the first Buddhist monastery to have been built in Mongolia and by various construction materials were taken from the ruins of Karakorum. At its peak in the late 18th century the complex of ornate gardens and 62 temples was home to over 1000 lamas. But in 1937, by communist purges the whole monastery completely destroyed.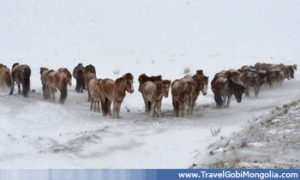 We will visit to Karakorum Museum, Karakorum Ruin Open Museum and Erdene Zuu Monastery Complex respectively. Overnight  in the local ger guetshouse.
Day3. Khustai National Park- wild horses and nomadic family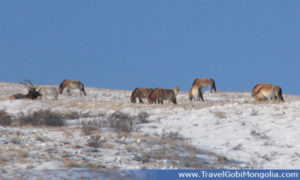 Next day morning, we will drive to Khustai National Park (340 km). National Park Khustai where re-introduction of the wild takhi horses (Przhevalsky's horses) has taken place since 1992. Takhi is last wild horse subspecies surviving in the 21st century. It was discovered in western Mongolia in the late 1870s by the Russian explorer N.M. Przhevalsky.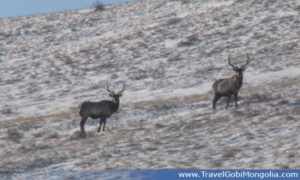 Several expeditions since 1969 have failed to find this horse, which probably crossed with half-wild domesticated horses and lost its distinct features. Specimens have been kept and bred in zoos, and Mongolia in the late 20th century attempted to reintroduce them into the wild.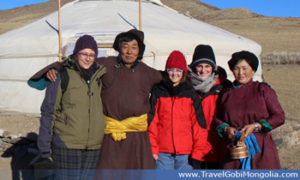 Overnight in the local nomadic family.
Day4. Back to Ulaanbaatar.
After breakfast time, we will drive to Ulaanbaatar city (80 km) and after we transfer you to your accommodation our trip will finish.
Our Booking is easy & complete in below 4 steps.
Step1: 
 Please carefully read our Contract Of Private Package Tour. Cancellation & other condition will be follow this contract.
Step2: 
 Send us your Booking Form (Only one of the group member's Booking Form is fine. No need to send us all member's booking forms)
Step3: 
 You will be received an Voucher & Invoice from us via email.
Step4: 
 Select payment method and pay the Payment.
Above prices are changeable by changing components (kind of services) of the itinerary.
This is a private tour and you or your travel buddies will be in the tour.
Domestic flight companies accept only 10kg-15kg lugguge incuding your carry on bags too for free transfer.
It is your responsibility to ensure you are in correct pick up location at correct time as stated on your booking form.
No smoking in travel vehicles or aircraft.
How long have you been in business?
We have been providing high-quality sightseeing travel  at low prices for over 10 years. Read our customer Testimonials. You can also see ratings and reviews of our tours from real travelers on the tour/activity details page. more Customers' FAQs
Please let us know should you have further inquiries! We are looking forward to assist you with organizing your stay in Mongolia and answering any questions you might have about this tour. We want your holiday experience in Mongolia to be as amazing as it is possible.